3fivetwo Group Receives Multi-Million Growth Capital Investment From 57 Stars and Foresight Group
16th, Apr 2019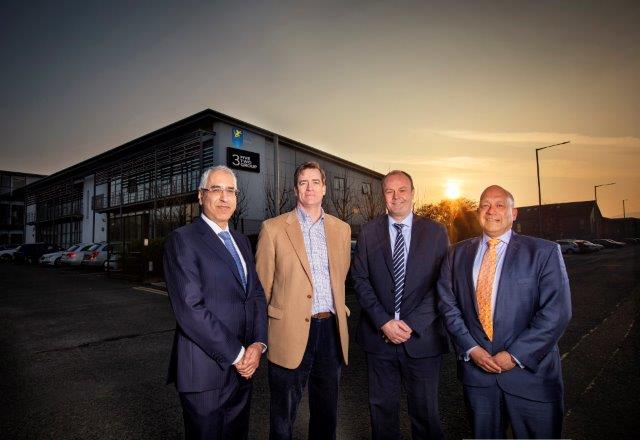 Northern Ireland's largest private healthcare group, the 3fivetwo Group, has secured a multi-million pound investment from a new fund dedicated to investing in Northern Ireland.
Northern Ireland's largest private healthcare group, the 3fivetwo Group, has secured a multi-million pound investment from a new fund dedicated to investing in Northern Ireland.
The fund, created by US-based 57 Stars LLC and leading UK SME investor Foresight Group, will be used to provide additional capacity, including beds and laminar flow theatres, at 3fivetwo's Kingsbridge hospitals in Belfast and Sligo.
The investment will also enable the provision of more services in imaging, orthopaedics and specialist services. such as cardiac surgery, and the expansion of medical training and optometry services through acquisition and partnership.
57 Stars, a boutique independent asset manager, is partnered in the investment with Foresight, one of UK's longest-standing private equity investment houses, who will manage the new fund locally.
The investors, who will be seeking to support other ambitious small and medium sized businesses operating in Northern Ireland, will be taking a minority stake in 3fivetwo Group and both funds will be represented on the board of directors.
3fivetwo is the only private healthcare group on the island of Ireland to have hospitals in both Northern Ireland and the Republic of Ireland, as well as a presence in London.
Suresh Tharma, joint CEO, said: "57 Stars and Foresight believe in our vision and support our aspiration to be a world leading healthcare company. We realised that our goals were aligned from an early stage and we are immensely proud of the faith they have shown in us.
"They want to make a return on their investment for their investors, naturally, but they also want to make a difference to the lives of the people of Ireland in the process. Our plans are ambitious and set a path for achieving both objectives."
Bernard C. McGuire Jr, Managing Director of 57 Stars, said: "As the private healthcare leader in Northern Ireland, 3fivetwo has built an institutional foundation for the future and is well positioned to complement the public healthcare sector as part of the solution for long hospital waiting lists.
"3fivetwo boasts a high-quality management team and a company-wide focus on service delivery to patients and 57 Stars is excited to be making a long-term growth equity investment to further enhance the Group's capabilities and enable it to take advantage of multiple new opportunities."
Chris Wardle, Senior Investment Manager at Foresight, said: "3fivetwo Group has a unique proposition with an entrepreneurial management team who have proven their ability to identify and address exciting opportunities, while improving the lives of thousands.
"Foresight has a long history of regional investing in the UK and Ireland to support SMEs to achieve ambitious goals and our new partnership with 57 Stars helps us continue to do this in the dynamic Northern Irish market.
"The new fund will be targeting both growth capital and majority stake investments in businesses with a material presence in the region, primarily supporting companies that generate EBITDA in excess of £1m."
The transaction was brokered by corporate finance experts HNH Group. Director Craig Holmes said they were delighted to act for 57 Stars on the transaction, which connects US funding to one of Northern Ireland's leading companies and is a significant development for the local market.
"Attracting US investment into a NI-based Company indicates further confidence in our local private sector and talent pool," he said. "This investment will strategically enhance 3fivetwo's offering and fund further growth opportunities across their markets."
Ashok Songra, joint CEO of 3fivetwo Group, added: "Our ambitions are to extend our reach by providing 5-star medical services beyond this island to the rest of the UK and other parts of the world.
"57 Stars and Foresight are ideally placed to assist with the scaling up of our business and to open new opportunities which will help us exceed our goals. We have bonded very quickly as a team and look forward immensely to the journey ahead."
Adrian Doran, Head of Corporate Banking for Barclays in Northern Ireland, said: "We have been 3fivetwo's banking partners since 2011 and we are excited by the prospect of the next stage of their development.
"Attracting a multi-million-pound investment from a prestigious US fund such as 57 Stars, together with on the ground support from one of the UK's leading private equity firms, gives a tremendous platform for future growth."
3fivetwo were advised by A&L Goodbody, KPMG and Baker Tilly Mooney Moore. 57 Stars and Foresight were advised by Tughans, HNH Group, Luminii Consulting, Catalysis Advisory and Vista Insurance Brokers.
Media Inquiries: Joanne McNeill, McNeill Communications
NOTES TO EDITORS
3fivetwo Group
3fivetwo Group are a private healthcare company based in Northern Ireland, committed to providing the highest standards of medical excellence through the work they do with trusted healthcare professionals in their clinics and hospitals.
Established by Dr Suresh Tharma and Mr Ashok Songra in 2006 they are the only private healthcare group on the island of Ireland to have hospitals (Kingsbridge in Belfast and Sligo) in both Northern Ireland and the Republic of Ireland, as well as a presence in London.
www.3fivetwo.com
57 Stars LLC
57 Stars is a boutique independent asset manager focused on investing in primary and secondary private equity partnerships, and co-investments.
With more than USD 3.5 billion raised and managed, 57 Stars' senior team has more than 150 years of collective experience investing in international private equity markets. The 57 Stars team works with notable institutional investors, including: US pensions, foundations, family offices, and sovereign entities.
The firm's deep global private equity experience enables us to develop tailored client solutions through a sophisticated investment process that offers investors access to leading international growth equity, corporate finance, venture capital, infrastructure, and real estate investment opportunities.
The firm has offices in Washington DC, San Diego, Munich, and a subsidiary in Singapore.
www.57stars.net
Foresight Group LLP
Foresight is a leading independent infrastructure and private equity investment manager which has been managing investment funds on behalf of institutions and retail clients for more than 30 years.
Foresight has £2.9 billion of Assets Under Management across a number of funds, including Listed Vehicles, Limited Partnerships, Enterprise Investment Schemes (EISs), Venture Capital Trusts (VCTs) and Inheritance Tax Solutions using Business Property Relief (BPR).
Foresight's Private Equity team, comprising 24 investment professionals, pursues four discrete but complementary investment styles: Venture, Impact, Growth and Replacement Capital through its growing regional office network.
Foresight was voted 'Best VCT Investment Manager' at the 2017 Growth Investor Awards, having been previously awarded 'VCT House of the Year' at the 2016 Unquote British Private Equity awards. Foresight was recently a shortlisted finalist in the 2018 Unquote British Private Equity Awards as Venture and Growth Capital House of the Year.
Foresight is headquartered in London with regional UK offices in Manchester, Nottingham, Milton Keynes, Leicester and Guernsey and international offices in Sydney, Rome, Madrid and Seoul.
Business Eye - http://www.businesseye.co.uk/
Irish News full story - https://www.irishnews.com/business/2019/04/16/news/multi-million-pound-cash-injection-at-3fivetwo-group-1598560/
Belfast Telegraph online and North West edition https://www.belfasttelegraph.co.uk/business/northern-ireland/multimillion-pound-investment-secured-by-healthcare-group-38017897.html
Private Equity Wire - https://www.privateequitywire.co.uk/2019/04/16/275018/foresight-invests-gbp5-million-growth-capital-3fivetwo-group
Langbuisson News - https://www.laingbuissonnews.com/healthcare-markets-content/new-investment-to-boost-capacity-at-3fivetwo/
International Travel & Health Insurance Journal - https://www.itij.com/IHHR/story/investment-northern-ireland-private-healthcare-company?width=400&height=100&inline=true
Gerson de Rosa - https://www.gershonderosa.com/news
HealthInvestor UK - http://www.healthinvestor.co.uk/AccessDenied.aspx?ReturnUrl=/ShowArticle.aspx?ID=10171
Shilfa.com - https://shilfa.com/zimbabwe/companies-buy-a-stake-in-the-belfast-3fivetwo-healthcare-company/
https://www.onenewspage.co.uk/n/UK/1zkhgt2hrh/Firms-buy-stake-in-Belfast-healthcare-company-3fivetwo.htm
https://lovebelfast.co.uk/3fivetwo-group-has-secured-a-multi-million-pound-investment/
---