A Day in the Life of Jaime Gwyn, Recovery Manager at Kingsbridge Private Hospital
20th, Jul 2020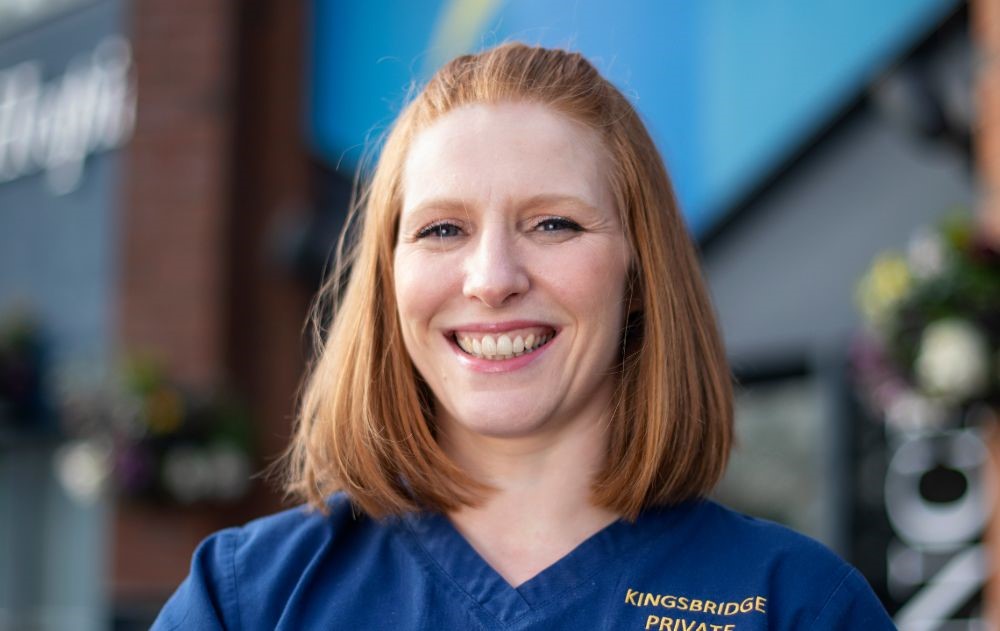 Are you a Nurse or Healthcare Assistant? Interested in working for Northern Ireland's largest private healthcare provider?
Kingsbridge Private Hospital are currently recruiting for Theatre, Ward and Outpatient Nurses and Healthcare Assistants with immediate vacancies available.

We spoke to Jaime Gwyn, Recovery Manager to find out what she enjoys most about her role, the challenges she faces and the benefits she receives as a vital team member of Kingsbridge Private Hospital.

What does your typical day look like as a Nurse in Kingsbridge Private Hospital?
In the Recovery unit our day starts at 8am. We check all our equipment including emergency equipment to ensure it is in working order prior to receiving patients from theatre. Recovery is a 6 bedded unit and patients are transferred to us after they have had their surgery. We provide a safe environment for them to waken up properly from their anaesthetic. Patients maybe disoriented when they first waken, and we work to ease their anxiety and to ensure their physical and emotional comfort. The care we provide centers around ensuring they can maintain their airway and breathe properly, to manage their pain in the immediate post-operative period, deal with any unwanted to side effects to the anaesthetic or the drugs they are given and to ensure any wound sites, drains etc are satisfactory. We observe clinical observations closely while the anaesthesia wears off. Once we consider the patient awake enough and stable, we will discharge them back to the ward. A large percentage of patients do not remember their time in recovery. Our shift ends when all patients have been discharged back to the ward safely.
As the Recovery Manager, I am responsible for creating an environment of patient focused care, defining standards for quality patient care as part of a larger Local Quality and Governance Team within the hospital. It is my job to ensure my staffing levels are appropriate and they have the required training to work in the unit. Patient Safety is of paramount importance within the unit and all that we do is centered around this. This includes working closely with other departments in the hospital.
Do you find that you can work flexible hours?
Theatres generally run 7 days a week and we do not work nightshifts in recovery, so our shift ends when the last patient leaves recovery in the evenings. Our shifts can include a mixture of long days, earlies and lates in order to meet the needs of the unit. I will always aim to be flexible with the shift patterns where I can.
What do you enjoy most and what benefits do you receive working for Kingsbridge Private Hospital?
Kingsbridge Private Hospital is a relatively small hospital in comparison to the NHS hospital I worked in previously for 10 years. This means all departments work very closely and everyone know everyone. There is a real team spirit in KPH that I have never experienced elsewhere, and it makes working here, a genuine pleasure.

There are many benefits to working here. The training provided to all nurses is excellent. All our training is provided through Training Academy and is always up to date.

Part of the benefits include Private Health Care which is something you think you don't need until you have it and then wonder how you ever coped without it. It provides a reassurance that there is help there if you need it quickly instead of having to worry about long waiting lists for appointments or consultations.

Great Annual Leave entitlement every year.
What do you find are challenging aspects of the job?
The most challenging part of being a recovery nurse is managing a patient's pain in that immediate post-operative period. This is a process that requires skill and knowledge. Assessing and Managing the pain appropriately whilst having to consider other factors such medical history, clinical obs and side effects. Pain is different for everyone. The process of treating the pain can take time and sometimes it can be difficult to reassure a patient who is experiencing a lot pain that we are treating it and it will get better.
What are the essential qualifications or experience needed to secure a role as a Nurse at Kingsbridge Private Hospital?
In order to work in recovery at Kingsbridge we do ask that nurses have experience in either a recovery setting or an ICU setting. I myself come from an Intensive Care Setting and the skills used there relating to airway management, pain management and assessment of clinical observations are very transferable to the recovery setting.
What advice would you give anyone looking to follow a similar career path?
Follow your heart. Whilst we hear many negative aspects of being a nurse these days, try not to let it dishearten or deter you from the path. I entered nursing slightly later as I let people 'talk me out of it' initially. However, it is job I love and never once regret reverting back to my original career choice. Once you have idea of what area in nursing you enjoy most, keep that as your goal make sure to take on as much positive advice along the way. Your career in nursing will be what you make of it.
What is the one piece of advice you would give to yourself on your first day?
Be yourself. Don't try and pretend you know everything, you don't! Ask questions and listen to the answers. Be proactive, don't stand back and wait to be asked. Breathe, it will all be fine.

Virtual Recruitment Open Day
On Tuesday 28th July at 11am, Kingsbridge Private Hospital are hosting a Live Virtual Recruitment Open Day where you will find out more about our exciting career opportunities. You will also receive a guided tour of our hospital and hear first hand from our staff about what it is like to work for us.

Register your place by clicking here.
How to Apply
If you or someone you know would like to apply for one of our nurse roles, please visit our Careers Page and send your application to recruitment@kingsbridgehealthcaregroup.com

Should you have any queries regarding working with us, or filling in the application form, please contact our Human Resources Department at recruitment@kingsbridgehealthcaregroup.com or Human Resources Department, Kingsbridge Healthcare Group, 21 Old Channel Road, Channel Warf, Belfast, BT3 9DE
---