Coronation Chicken Salad, Dried Apricot and Pickled Cucumber
11th, Sep 2019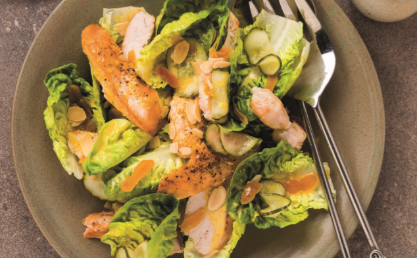 Our Coronation Chicken Salad, Dried Apricot & Pickled Cucumber is low in fat, provides adequate protein and you'll get a fibre kick from the apricots.
Ingredients
2 chicken fillets cooked and sliced
2 heads baby gem (washed and dried)
50g dried apricots (thinly sliced)
20g toasted almonds
FOR THE DRESSING
100ml mayonnaise
50ml mango chutney
5g curry powder (mild)
1 lime (zest and juice)
50ml water (enough to make a runny dressing)
Salt and pepper to taste
FOR THE PICKLED CUCUMBER
half a cucumber
100ml white wine vinegar
100ml water
50g caster sugar
5g mustard seeds
1 star anise
5g salt
Method
FIRST OF ALL, PREPARE THE PICKLED CUCUMBER
• Thinly slice the cucumber diagonally, place in a bowl and set aside.
• Add all the rest of the ingredients into a small saucepan and bring to the boil, once the sugar has dissolved take it off the heat and let it cool.
• Pour it over the cucumber, cover and let it pickle for an hour or preferably overnight. The cucumber will happily sit in the pickle for a couple of weeks so this can be done well in advance.
NOW FOR THE DRESSING
• Put all the dressing ingredients in a bowl and whisk until well combined. If it is too thick add a little more water. • Once you have all your prep done it is time to put it all together. Dress the leaves and chicken in a large bowl, leave a little dressing to finish the salad.
• Arrange the leaves and chicken in 4 bowls and top with the cucumber and apricots. • Sprinkle the reserved dressing over the salad.
---