Future King of the Cage Chats Preparation and Recovery at Kingsbridge
08th, Dec 2020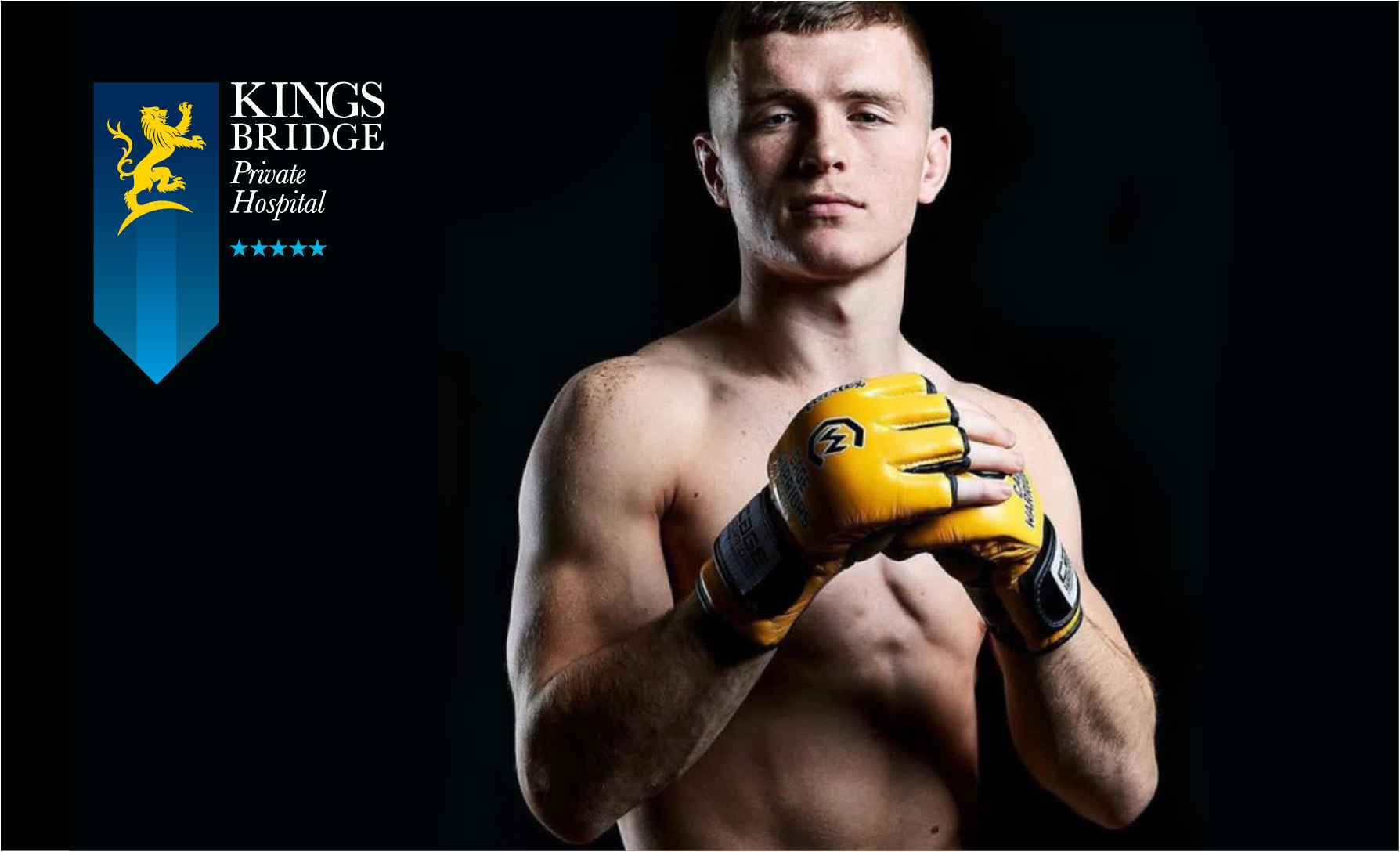 We caught up with Kingsbridge Athlete Paul Hughes ahead of his upcoming bout on the Cage Warriors 'The Trilogy' on 12th December to find out how he keeps himself sharp and injury free before his pivotal next fight against Jordan Vucenic (available to watch via subscription to UFC Fight Pass).
Paul, a pro MMA fighter from Derry and one of the most exciting prospects in European MMA at only 23 years old has kept himself busy over the two lockdowns this year. First, he had to prepare for a fight in March, which he won impressively, and that was followed by another win in September, extending his undefeated record to 6-0-0. Now, he prepares for his third fight in a year and an opportunity which, with a win, will see see him become the number 1 contender for a World Title.
Training under quarantine can be even more intense than usual - minimal distractions and extra precautions to be taken. Paul explains how he manages his pre and post fight regiment and the challenge of adapting to an ever-changing environment.
How has training been different for you for this particular fight?
"Because of Covid-19 we've now had to work in a wee bubble of training partners. So I've had a group of four or five guys who have been preparing me for this world title fight."
What regular pre-fight checkups do you go through and how often?
"Each year we must complete an MRI brain scan and we must also do medicals and blood tests every six months. Along with eye checks. Thankfully, Kingsbridge can provide everything for me like a one stop shop so it's absolutely no hassle, it's a great job."
You have struggled with a recurring hand injury in the past, what precautions do you take to manage that?
"I always have to make sure I have the best healthcare with the best people and specialists to help me both prevent and recover in case anything happens"
As a young Irish fighter are there any other homegrown talents you look to for inspiration?
"Absolutely. On a larger scale, I look to quite the obvious one - Conor McGregor. My fellow Irishman who's made waves across the world and MMA. Also, local fighters, like Mick Conlan - the boxer. Another proud Irishman, like myself."
As one of the most exciting young featherweights around, it's easy to get carried away; how do you stay grounded and disciplined in the run up to a fight?
"(Laughs) The sport of MMA is a very humbling sport. Many people might see the theatrics and showmanship on fight day, especially when you win. But MMA training is very humbling, It's an incredibly hard sport with many different disciplines; so, you're not always going to be the best in every discipline. This keeps you grounded and definitely humble outside the sport as well."
This is your first No.1 Contender Fight for Cage Warriors, how does that feel? Is that an accomplishment in itself?
"Yes of course, this is everything I've been working for, to be one step away from a world title at only 23 years old is a massive accomplishment for me. But I will not be satisfied until I am the world champion and my dream is realised."
Going into this fight is there anything you have focused on in particular and how does that affect your recovery/planning?
"As there's so many disciplines involved in MMA you cant let any single one suffer and nothing can fall behind, especially at my level. On the world stage, any weakness will be exposed, so I need to make sure I am world class in every area as well."
Post-fight, what do you prioritise in your check ups; is there anything in particular you look out for?
"The first thing we do when we get out of the cage is go to see the medical team to make sure everything is okay. If there are any issues or injuries carried on from the fight I will definitely go to see the guys at Kingsbridge to keep my body sweet. Especially after this next fight, when I get that win, the next step will be for a World Title, so I'll need to make sure I'm 100%. By working with the team at Kingsbridge I know they can help me do this."
What are your aspirations for the future? What's the big goal?
"In this next six months I WILL BE the Cage Warriors Featherweight Champion at only 23 years old. This has been a dream of mine since I turned professional at age 19 and it will soon be realised. However; the ultimate goal is to be UFC Featherweight World Champion and that has been written down in my mind for years. What comes with this, is setting my family for life and that is the true goal."
With the rest of December free to relax, how do you plan on spending your time over Christmas?
"Unfortunately, there won't be any time for rest as after this bout will be the World Title Fight for Cage Warriors. Honestly, I love this sport so much that training and pushing myself is what I love to do and acts as a vehicle for the rest of my life. Obviously, I will take a few days off over Christmas to spend time with my family and that will be lovely."


Paul's pre and post fight check ups are provided by and carried out at Kingsbridge Private Hospital in Belfast. We are proud to be the leading private healthcare provider in Northern Ireland with world class facilities and five star staff on hand to provide the care you need.
Whether you're a professional athlete like Paul or a part-time park athlete like the rest of us, we provide all of our patients the same level of fist-class care and treatment available. From routine blood tests to MRI scans and private GP appointments we can help you stay on top of your game, everyday.
For more information visit us at: www.kingsbridgeprivatehospital.com
Or call us at:
NI 028 9066 7878
ROI 048 9068 8858
---