Kingsbridge Belfast Launch NEW GP-Led Health & Wellbeing Clinics
22nd, Mar 2021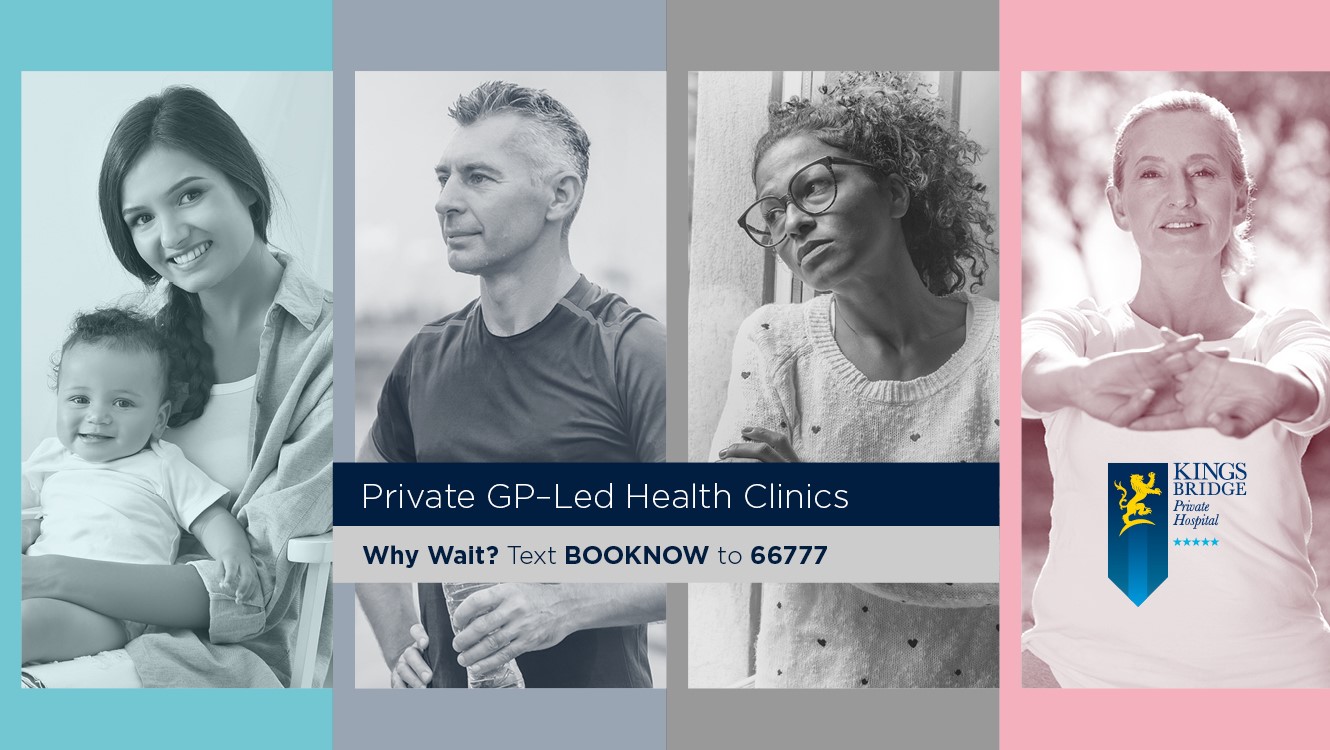 As part of Kingsbridge Private Hospital's Enhanced Private GP Service, we are delighted to offer a new series of GP-Led Health & Wellbeing Clinics. These include a Mother & Baby Clinic, a Mental Health & Wellbeing Clinic, a Men's Health Clinic and a Women's Health Clinic from only £89.
Whether you are a new mother, worried about your own or a loved one's mental health, or are experiencing new or unusual symptoms, our GP-Led clinics can give you access to an entry level appointment to discuss your concerns and if required, provide a referral onwards towards further investigations and diagnostics with specialists within their field.

Mother & Baby Clinic
Our GP-Led Mother & Baby Clinic gives you the chance to discuss any worries you may have for you and your baby. Our Private GP will discuss your general health and wellbeing, particular postnatal issues and advice and a physical exam if necessary. A gynae or paediatric referral will also be arranged if required.

Mental Health & Wellbeing Clinic
The past year has proven just how important it is to look after our mental health, the same way we would our physical health. We are all struggling a little more than normal. However, if you or a loved one is finding it hard to cope with the current pressures of life and are experiencing symptoms of depression or anxiety, reaching out and finding a solution can help.

Our Private GP's can provide you with the right steps to take to try and make things that little bit easier for you!

*Please note, drug-use and more extreme mental health issues will require further assistance from specialists and waiting lists are still to be expected.

Men's Health Clinic
From adolescents to adulthood, from aches and pains to sexual health concerns, our Men's Health GP-Led Clinic can offer you peace of mind by facing unusual symptoms that may have arisen, such as urinary problems. In line with our Men's Health Clinic, GP-Led Prostate Screening Tests are available, which is especially important if you are over the age of 50 as annual screenings are recommended from the age of 50 whether symptoms are present or not.

Women's Health Clinic
From menopause to unusual lumps and bumps to problematic skin, why wait weeks on a GP appointment? Our Private GP will assess you and arrange an onward referral to a women's health specialists. Our Women's Health GP Clinic is suitable for all ages.

Lisa Neligan, Private GP at Kingsbridge Belfast said: "If you have any concerns, whether they are big or small, as a GP we are here to focus on your health combining physical, psychological and social aspects of care. By visiting your GP, you can gain peace of mind, or if there is a concern, you will be referred onwards to the treatment you need.

Early detection gives you the best chance for getting the right treatment quickly, avoiding any complications. At Kingsbridge Private Hospital, we are uniquely positioned to offer referrals to our onsite diagnostics services including MRI, CT Ultrasound and X-Ray and to our specialist surgeons for Cataract procedures or hip or knee surgery.

Our new Prostate Clinic can also give you access to a streamlined service from a Prostate Screening test from only £60 to revolutionary new procedures such as SpaceOAR Hydrogel insertion, gold fiducial markers and brachytherapy treatment.

Don't wait weeks to make an appointment, if you are worried and would like to speak to a GP, pick up the phone. We are here to help."



Pictured above: Dr Lisa Neligan, Private GP at Kingsbridge Private Hospital Belfast

Kingsbridge Private Hospital have over 300 specialist consultants so you can feel reassured that your pathway from GP appointment through to treatment or surgery will provide you with the help you need.

To book an appointment at one of our Private GP-Led Clinics just text BOOK NOW to 66777 or alternatively contact 028 9066 7878, email info@kingsbridgeprivatehospital.com or visit our website at kingsbridgeprivatehospital.com for further information.
---