Kingsbridge's Cage Contender Is Fresher And Hungrier Than Ever
26th, Jan 2021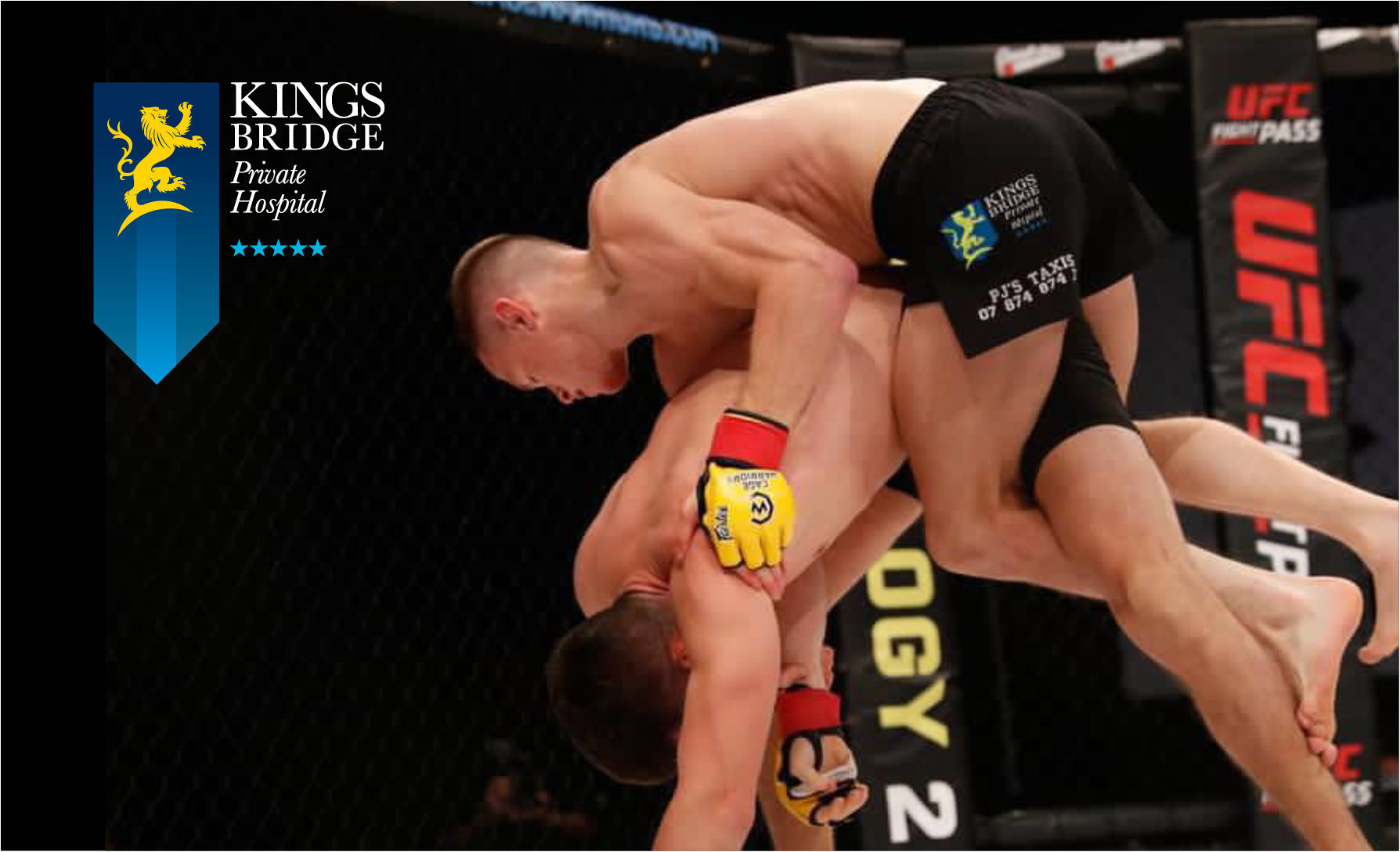 Kingsbridge Athlete Paul Hughes' star continues to rise. The MMA sensation is back in London at the end of March (20th) for the second instillation of Cage Warriors 'THE TRILOGY'.
His last showcase fight in December was voted the fight of 2020 and, despite the final result going against him on a split decision, he remains firmly among the contenders in a crop of featherweight fighters described as 'one of the strongest periods for the featherweight division in Cage Warriors history.'*
We caught up with Paul to, once again, to talk about title challenges, coronavirus challenges and his new approach to both training and life in the new year.
Do you have any specific new training or diet plans for your first fight in 2021 planned?
My training schedule is 90% the same but I have hired a new nutritionist called Steven Floyd. So I'm excited to see how that will play out leading up to this fight.
How are you keeping mentally sharp and staying upbeat?
I'm generally a pretty happy, positive person and regardless of what is going on, I can usually overcome it. The fact that I have a fight booked in march is something that is definitely keeping me sharp and upbeat.
What is the new lockdown looking like for you in regards to splitting time between training and family?
I try to see my Mum and Dad at least once a week and the rest of the week is spent in the gym! I try to see friends when I can but lockdown is obviously making that very difficult. I'm just focusing on what I can control rather than what I can't.
Any advice you have for others who are on a new training kick to kickstart their new year?
I would definitely say try and get a coach. Be it online or what, its really important to have someone to hold you accountable because it's really easy to fall off the bandwagon. And I would say start off slow and build it up over time.
Who and/or what helped you get over the setback of your last fight?
To be completely honest, I don't even see my last fight as a setback at all. Of course it goes down on my record as a loss but I believe I won that fight, as do the majority of the people in the MMA community.
After the fight I was gutted but the next morning I was so proud of my performance as I really did leave everything in that cage and it gives me that extra motivation moving forward.
How do you use setbacks to motivate you moving forward?
I truly believe that every setback is sent for a reason. If it was easy everyone would be doing it! So these 'setbacks' are crucial.
What (if any) are your new years resolutions for 2021?
My resolution is getting that world title. And then defending it. That's my priority.
Do you have any new goals or priorities outside the ring this year?
Last year was very stressful as I had three major fights and, obviously, coronavirus, so this year I want to spend more time on things that make happy outside of training. Things like, reading, meditating and getting out in nature.Things that put me in a good headspace. I'm going to put aside more time for these during the day.
You're active on social media - how do you feel that helps you connect with fans at a time when they can't come see you fight in person?
I think it's very important and that's why I do spend time on it. Especially small things like not getting to see even my best friends who want to know how I'm doing. Through my vlogs and my posts it gives them an insight into how I'm getting on. As well as my fans from around the world, it's good for those very close to me.
Any advice to young athletes who are struggling to stay motivated?
Number one - only stress over things you can control. Disregard everything else. I would also say every obstacle has opportunity. So it's up to you to break those down and find what areas you can improve on. For example; social media use, your mindset towards your sport, getting educated and getting reading. There's a lot you can do.
Cage Warriors 120, 121 and 122 will take place on the 18th, 19th and 20th of March. All 3 events will be broadcast on UFC Fight Pass live from London's York Hall.
Paul's pre and post fight check ups are provided by and carried out at Kingsbridge Private Hospital in Belfast. We are proud to be the leading private healthcare provider in Northern Ireland with world class facilities and five star staff on hand to provide the care you need.
Whether you're a professional athlete like Paul or a part-time park athlete like the rest of us, we provide all of our patients the same level of fist-class care and treatment available. From routine blood tests to MRI scans and Private GP appointments we can help you stay on top of your game, everyday.
For more information visit us at www.kingsbridgeprivatehospital.com
Or call us on NI 028 9066 7878 l ROI 048 9068 8858
---