Kingsbridge Kitchen - Celeriac & Thyme Soup
19th, Aug 2019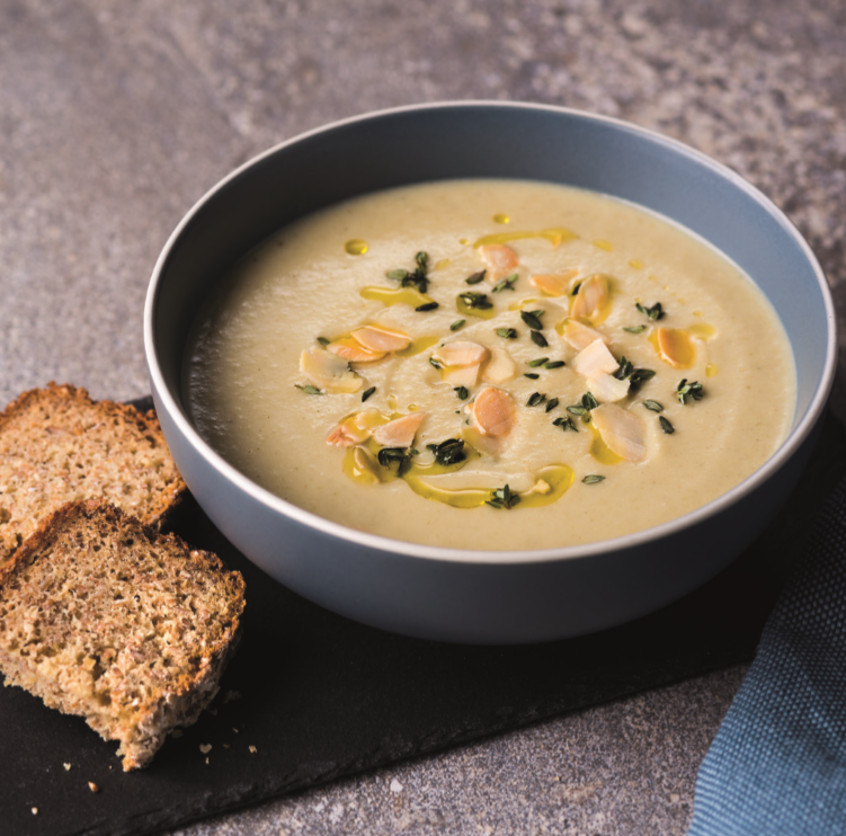 A simple but nutritious meal paired with fresh vegetables. Celeriac is a good source of B vitamins which play a major role in energy production.
Ingredients
2 heads of celeriac (peeled and cut into small chunks)
3 sticks celery (chopped)
1 onion (peeled and chopped)
5 cloves garlic (chopped)
30g thyme leaves (removed from the stems)
1ltr milk (semi skimmed)
1ltr veg stock
50ml rapeseed oil
10g flaked almonds
Method
• Heat the oil in a heavy based saucepan on a medium heat.
• Add the onion, celery and thyme, sweat for 5 mins making sure not to brown them.
• Add the celeriac, garlic, milk and veg stock. Simmer for 45 mins or until the celeriac has softened.
• Blitz the soup with a stick blender and season with salt and pepper.
• Pass it through a sieve to get any lumps out.
• Serve with toasted almonds and wheaten.
Wheaten Bread
Homemade wheaten bread is a high energy choice that will provide some fibre. Paired with a delicious bowl of soup or alongside a salad it combines well with almost anything.
Ingredients
325g wholemeal flour
325g plain flour
30g brown sugar
15g bicarbonate of soda
115g butter (melt and cool) 560ml buttermilk
150ml milk
5g salt
10g oats
Method
• Preheat oven to 170°C.
• Butter and line two 1lb loaf tins with baking parchment.
• Mix the flours with the salt and the bicarbonate of soda.
• Add the sugar and mix well.
• Mix the buttermilk, milk and butter together and add to the dry mix.
• Combine well and pour into loaf tins.
• Scatter some oats over the top of each loaf and bake for 45 mins to 60 mins.
• Check by inserting a skewer into the centre of one of the loaves if it comes out clean then they are ready.
• Turn out onto a wire rack to cool.
---