Lemon Posset, Macerated Strawberries with Shortbread
25th, Nov 2019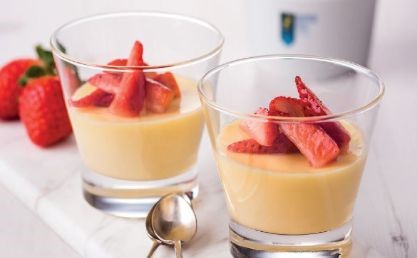 Enjoyed as part of a balanced diet desserts can be eaten occasionally and are best homemade when possible to avoid unwanted processed ingredients. This lemon posset is the perfect light and zesty evening treat.
Ingredients
400ml double cream
110g caster sugar
2 lemons (juice and zest)
200g strawberries
25g caster sugar
5 twists of black pepper
Method
For the Posset
Bring the cream and sugar to boil in a pot and reduce the heat. Stir in the lemon juice and zest, simmer for 5 minutes.
Pass through sieve and cool a little before pouring into glasses.
Place in the fridge for at least 4 hours or preferably overnight.
For the Strawberries
Wash and cut the strawberries into quarters
Place in a bowl and stir in the sugar and black pepper. Marinade for 30 minutes.
To Plate
Spoon some strawberries on top of the posset and serve with shortbread.
VANILLA SHORTBREAD
Ingredients
110g caster sugar
230g butter (soft)
350g plain flour
5ml vanilla essence
Method
Pre heat your oven to 160C.
Place the butter, sugar and vanilla essence in a food processor. Cream the mixture together until it turns pale.
Add flour and pulse until the mixture clumps together.
Tip onto a lightly floured work surface and bring the dough together into a bail but be careful not to over work.
Wrap the ball in cling film and chill in the fridge for 15 mins.
On a lightly floured work top roll out the dough to 5ml thick.
Cut out the shortbread using a round cutter and place on a lined baking tray. Keep re-rolling the trimmings until the dough is all used.
Place into a preheated oven for 15 min of until a light golden colour.
---