Pesto and Courgette Lasagne
14th, Oct 2019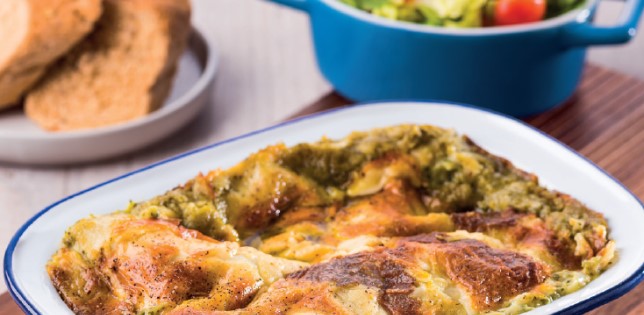 A wholesome dish. Pesto's ingredients contain multiple health benefits and are naturally high in Vitamins K, E and A. This vegetarian option is delicious and can provide some antioxidants.
Ingredients
PESTO
2 x 30g packs of basil leaves
3 cloves of garlic
20g pine nuts
50g parmesan (grated)
100ml olive oil salt and pepper to taste
CHEESE SAUCE
60g butter
60g plain flour
750ml milk
250g mature cheddar
30g dijon mustard
COURGETTE, GREEN PEPPER FILLING
3 onions (thinly sliced)
2 green peppers (thinly sliced)
3 courgettes (thinly sliced)
0ml cooking oil TO FINISH
10 approx. lasagne sheets
50g parmesan (grated)
Method
PESTO
• Put all the ingredients except the salt and pepper into a food processor and blitz to combine. Season with salt and pepper.
CHEESE SAUCE
• Heat milk in a medium sized saucepan, don't boil.
• Melt butter in a small saucepan and stir in the flour.
• Add flour mix to the warm milk and whisk over a low heat. Once it is all combined stir for 5 mins until it thickens making sure it doesn't stick to the bottom of the pot. Remove from the heat.
• Stir in the cheddar, dijon and set aside 1/3 of the cheese sauce for the top of the lasagne.
• Combine the pesto and 2/3 of the sauce together and set aside.
COURGETTE FILLING
• Soften the peppers, courgette and onion in a frying pan on a low heat for 10-15 mins.
• Mix together the pesto sauce and courgette.
• In an oven proof dish alternate the filling and pasta sheets finishing with a layer of pasta.
• Top with the reserved cheese sauce and sprinkle with the parmesan.
• Place into a preheated oven for 45 mins.
• Serve with crusty bread and a dressed salad.
---