Raspberry and Almond Friands
27th, Aug 2019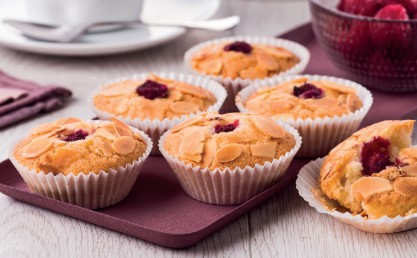 The perfect afternoon treat, filling and delicious!
Ingredients
100g butter (melted and cooled)
140g icing sugar
25g plain flour
3 egg whites
85g almonds
12 raspberries
Method
• Preheat oven 170°C and place 12 bun cases in a muffin tray.
• Sift the icing sugar and flour into a bowl.
• Add the almonds and mix well.
• Whisk the egg whites in another bowl until they form a light foam.
• Mix the egg whites into the almond mix and fold in the butter.
• Divide the batter between the 12 bun cases and place a raspberry into the middle of each.
• Place in the preheated oven for 25 mins.
• Set aside to cool.
---