Kingsbridge In Conversations with Mr Andrew Diver, Consultant Plastic Surgeon
16th, Jul 2021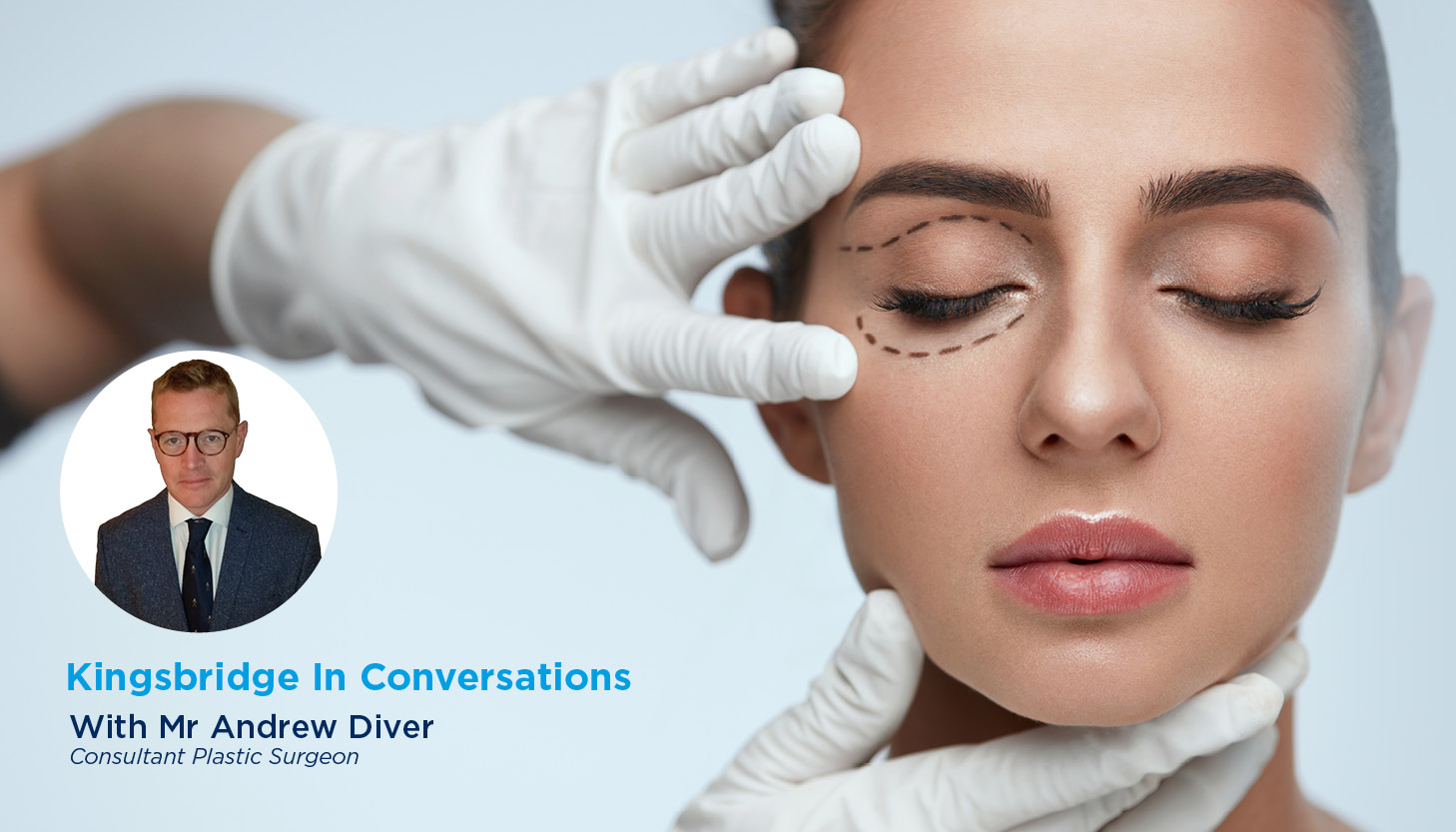 This week Kingsbridge caught up with one of the new Consultant Plastic Surgeons to join the team, Mr Andrew Diver, who had come back home to live in Ireland with his young family to set up and develop his private practice. In this piece he talks about common fears, preconceptions and emerging trends in his industry as well as his love for cycling, running and to tinkle the ivories.
What is your background of training and practice?
I trained in Belfast, London and worked for a year in Auckland, New Zealand. Most recently I was a consultant in Newcastle upon Tyne before moving back to Belfast and Sligo to be closer to my young family. I have been in the speciality for 17 years and in that time have worked in all subspecialties of plastic surgery and learned skills and techniques from some of the best surgeons around.
Which areas are of most interest to you and why?
I love all operating but in particular I have always been drawn to cosmetic surgery since the almost instant results can be truly satisfying for the surgeon, and hopefully the patient. I particularly like the intricacies of facial and eyelid surgery but cosmetic surgery to the breast and body is also very rewarding.
What are the common fears or preconceptions that patients often come to you with?
These are different for every patient and range from fear that friends and colleagues will know the patient has had surgery, to the fear of complications. Of course, the procedures and risks are fully discussed, but serious complications are thankfully rare.

Some patients do feel they will be negatively judged for having cosmetic procedures, but it is becoming so common nowadays for people to seek to enhance their appearance.
What would you say to men who don't feel comfortable with the idea of plastic surgery?
Thankfully, cosmetic surgery has less of a stigma now, including for men. This is reflected in seeing more men coming to clinics for various treatments. I would say don't worry what other people think because most people are thinking about themselves. If something is affecting your self-esteem significantly then there may be something relatively straightforward which could help.
How versatile is plastic surgery in regards to the range of the kind of treatments you provide and is this across all age groups?
Plastic surgery encompasses a huge range of procedures on all body parts. This is particularly the case for the reconstructive aspect of the speciality. On the cosmetic side, procedures can be tailored to the individual. Plastic surgery can be performed on any age group and is. But purely cosmetic procedures are best performed after the age of consent which is 16 years old (preferably older). Having said that we often correct prominent ears for children, particularly if they are being bullied as a result.
Do you find patients are happier/more confident post treatment and perhaps more willing to go down the route again?
Definitely. Having one procedure often instils confidence in patients that the procedure and anaesthetic are quite straightforward and, assuming they have had a positive experience and outcome, they will be less hesitant in proceeding with a second or third procedure. Of course, these are only performed if clinically appropriate.
How effective is plastic surgery in treating cancer?
Plastic surgeons are involved in the management of cancer affecting all parts of the body, particularly skin cancer, breast, head and neck cancer and sarcoma (soft tissue tumor) management. They are especially needed for reconstruction after cancer removal but increasingly also tumour excision.
What are some of the exciting new treatments available that we are providing?
There are constant developments including refinement of existing procedures, new technologies for example in liposuction and fat grafting (where your own fat is moved from one area to another). Non-surgical cosmetic procedures are extremely popular now and new products enter the market almost every month. The key with these is to ensure that the company and practitioner are reputable because there are many unqualified people giving fillers for example.
What do you enjoy doing outside work on your time off?
I like to spend time with my wife and three children. I also run and cycle and play the piano.
Do you see any trends emerging for specific types of treatment in your industry and if so, what are they?
As I said non-surgical cosmetic procedures are becoming very popular. There will always be a demand for definitive cosmetic surgery, but patients use more conservative treatments due to lower cost, less downtime and due to their concerns about the risks of surgery.

Mr Andrew Diver practices in both Kingsbridge Private Hospital Sligo and Belfast.

To book an appointment with Mr Diver, please contact:

Kingsbridge Sligo on 071 916 2649
Kingsbridge Belfast on 028 9066 7878
---