Kingsbridge Private Hospital - A Delicate Operation
26th, Aug 2015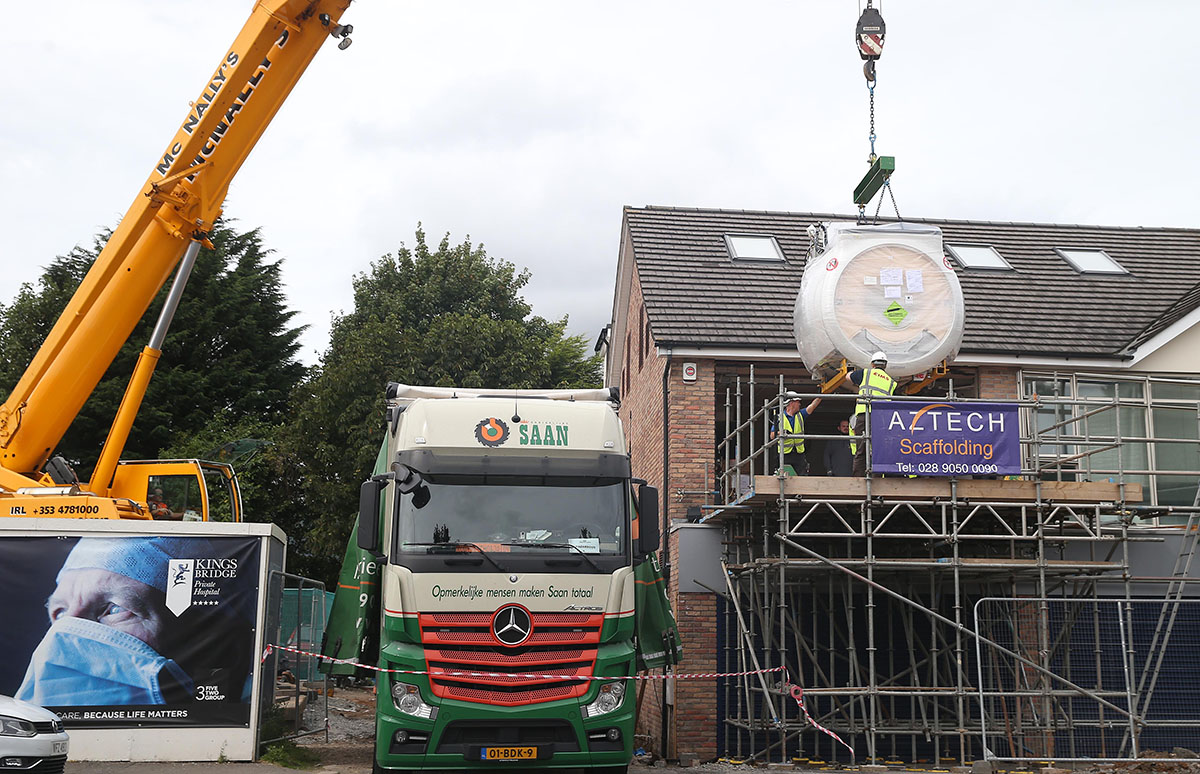 Staff, motorists and bystanders all took some time yesterday to watch a different kind of operation at Kingsbridge Private Hospital - the 'delicate' installation of a new two tonne MRI Scanner.
The one million pound Phillips Ingenuity 1.5 state-of-the-art MRI scanner was transported by ship from The Netherlands to Belfast before being carefully lifted by crane through the first floor window of the hospital. Whilst the delivery on the ground only took 30 minutes, it has taken over 4 months to prepare the site for installation involving the specialist expertise of 25 people.
Operations Manager for Diagnostics at Kingsbridge Private Hospital, Anthony McKenna said,
"Because the MRI scanner houses a magnet which is over 2 metres long, experts from Switzerland had to fly in to pinpoint exactly where it could be positioned, given the installation location being so close to the Belfast to Dublin railway line behind the hospital building".
The scanner will form a key diagnostic tool for Northern Ireland's first private cardiac assessment and imaging centre at Kingsbridge Private Hospital.
This MRI scanner is currently one of the most advanced clinical units in the UK and Ireland with the ability to scan all areas including Neurology, Musculoskeletal, Abdominal and Cardiac. With dS-Sense parallel imaging and Omega R5 Gradients imaging is faster, quieter and of the highest diagnostic standards.
All this plus the addition of in-room ambient lighting, selected by the patient, and a choice of feet first or head first imaging for most applications allows patients the highest level of comfort while still being assured of world class image quality.
The Head and Spine coil also has the unique ability to tilt allowing maximum comfort for patients with kyphosis and those unable to lay flat.
"Unlike CT scans or traditional X-rays, MRI works without radiation. This particular model allows more space for patients who are prone to feeling claustrophobic and already we have had quite a few enquiries from those people who have been waiting some time now to have their MRI done on the NHS," said Anthony.
Most scans take around 15 – 20 minutes.
For further information on our MRI and CT Scanning services go to www.3fivetwo.com/
---