Our Hospital in Belfast
Kingsbridge Private Hospital Belfast... where luxury care meets medical excellence in a harmonious blend of healthcare and hospitality.
Kingsbridge Private Hospital Belfast prides itself on delivering a five star experience to each and every patient who crosses our door.
Situated at the top of Belfast's prestigious Lisburn Road, Kingsbridge is a three storey hospital housing the highest levels of technological advancements in private healthcare.
Specialist Medical Services
Located in the heart of South Belfast,our hospital offers sophisticated diagnostic and therapeutic care in almost every specialty and subspecialty of medicine and surgery.
This includes the latest, most advanced MRI scanner, surgical theatres, CT scan facilities and modern outpatients' department.
Among the many medical specialities on offer, our high-end surgical centre, in particular, treats many patients who opt to have orthopaedic procedures, including knee and hip surgeries, carried out at Kingsbridge Hospital.
Leading The Way With The Latest Medical Care Facilities
Latest, most advanced MRI scanner, surgical theatres, CT scan facilities and modern outpatients' department
22 contemporary en suite bedrooms with plasma TV's
5 day bed ward
2 intensive care beds
2 Modern operating theatres
Endoscopy and minor surgery suites
ICU
Warm and welcoming reception area
7 Fully equipped consultation rooms
MRI, CT and outpatient centre
Treatment/plaster room
Digital X-ray and ultrasound suite
Car parking facilities
Wi-fi access throughout
Audiology suite and opticians
Physiotherapy & Sports Injury Clinic (located at Queen's PEC)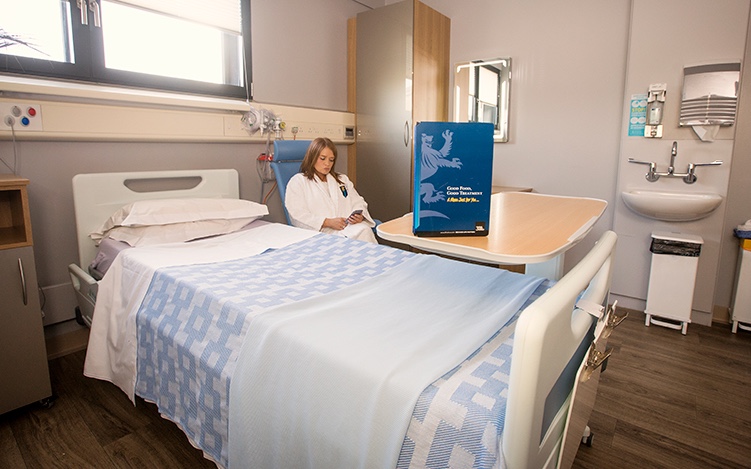 Fast-track Your Healthcare
Private healthcare is rapidly becoming the first option, not the last resort, for those wishing to avoid a lengthy wait in the public system.
Patients have the opportunity to quickly access surgery and medical investigations by self-funding their treatment or, alternatively, through their private health insurance or company healthcare plan.