Guidance for Patients and Relatives/Visitors

At Kingsbridge Private Hospital, staff and patient safety is at the heart of everything we do! The following video showcases the precautions we are taking to help keep you safe. (Video taken in March 2020)


Our ongoing commitment to quality, patient safety and clinical care remains our top priority. All private and NHS referral appointments are largely unaffected. However please note the latest safety steps below.

Keeping you safe during your next visit

We have put protocols in place to protect you and our team. Here is what you can expect to happen.
Wait until your appointment
Please arrive 5 minutes before your appointment. .
Our reception staff may be wearing protective equipment such as a mask or visor. There will also be a screen in front of the desk.
Let's check it is safe to see you
You will be asked some questions about your health.
You will be asked to use a hand sanitiser.
Practise social distancing
To aid social distancing, you will not be able to use all the chairs in our waiting areas and will be encouraged to attend your appointment alone if possible. We are currently not allowing any visitors to our Wards.
Maintaining our usual high standards
Infection control remains a priority. PPE and enhanced decontamination measures take longer so please be understanding.
At your appointment, our clinical staff will be wearing additional protective equipment that may include a mask, visor and gown. But don't worry, it is just to keep everyone safe.
After you have finished your appointment, please leave reception so we can prepare for the next patient.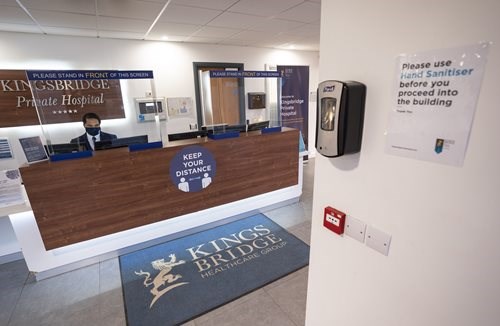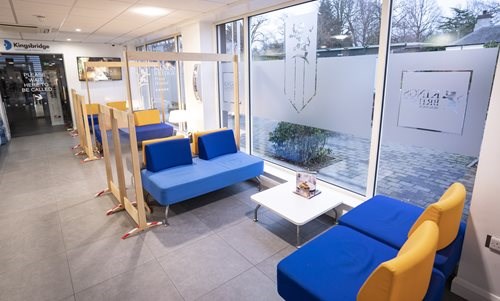 Thank you
Please be patient with our team. Covid-19 is requiring us to change the normal way we work and treat our patients. Thank you for helping us to keep everyone who works and attends Kingsbridge Private Hospital safe.


---
Screening of patients and staff (and essential visitors/accompanying person) on arrival to Hospital or Outpatient setting
On arrival to the hospital patients are presented with screening questions, whilst the receptionist confirms your details please read these questions. If you answer yes to any of the questions please advise staff.
What are we screening for?
For up to date advice please visit https://www.nidirect.gov.uk/campaigns/coronavirus-covid-19
(Updated 7th March 2022)
Additional Precautions and Concerns
If any person exhibits or communicates any COVID-19 symptoms, however mild, they must be advised that they cannot proceed and must leave, go home and follow the "stay at home" guidance. Please do not attend your hospital appointment if you are showing any symptoms.
If you have symptoms of coronavirus (COVID-19), however mild, you should begin self-isolating and book a test. If your test result is positive you should not leave your home for the required isolation period. This action will help protect others in your community while you are infectious. If your test result is negative you are no longer required to self-isolate.
Pre-Surgery Testing Pathway
Prior to a surgical appointment the patient may be asked to self-isolate for up to 7 days.

1-2 days prior to the procedure taking place the patient will be asked to attend a drive through COVID-19 testing clinic, whereby they will drive into the facility, a nurse will come out to the car to perform the test (which is a swab into the throat and/or into the nostrils) and the patient will be asked to return home to continue to self-isolate. 
Should the test come back positive, the patient will be contacted and advised not to attend their surgical appointment, but if they do not hear from us it can be assumed that the result was negative and they can come on ahead for their surgical appointment. 

On arrival at the hospital for the surgical appointment the patient can be helped/guided to the reception entrance (by a member of their own household, who has isolated with the patient), after that whomever is accompanying the patient will have to leave.

Once the patient enters the reception area they will be asked questions regarding Covid symptoms. 

After this, the patient will be able to check in at reception and will be given any assistance required by the nursing staff to help them up to the ward. 

Patient visiting is based on current guidance and subject to change. Please speak to a member of hospital staff to check for the latest information on patient visiting guidance.

If a patient requires support from another person, the screening also applies to this person. This is in place in both inpatient and outpatient areas.
Please note, as per the hospital's Medical Advisory Committee, in line with current guidance, any patient declaring a recent respiratory tract infection to include Covid-19, a 6-7 week postponement is in place for scheduling of surgical procedures.