Cooking With Our Kingsbridge Kitchen
21st, Aug 2023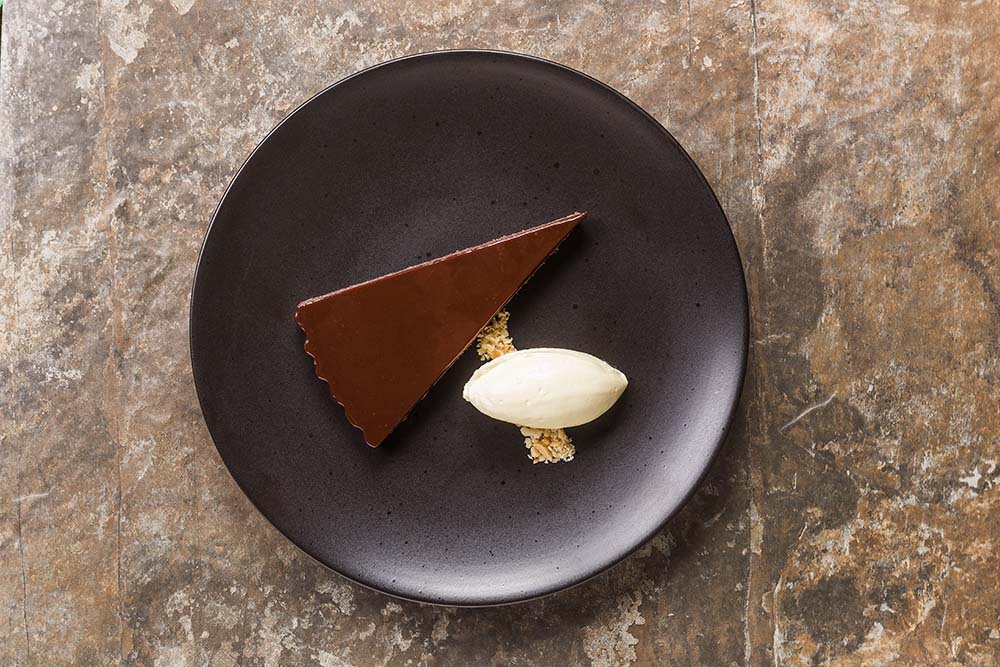 Our Kingsbridge Kitchen's Chocolate Tart with Roasted Hazelnuts and Vanilla Ice Cream is the perfect weekend treat and is just one of our many delicious recipes that features within our Kingsbridge Kitchen Recipe Book. So why not give it a go for yourself? Check out the full recipe below.
Ingredients
50g butter
150g hazelnuts
200g bourbon creams
250g dark chocolate (at least 70% cocoa)
250ml double cream
10ml rapeseed oil
10g icing sugar
1 vanilla pod (just the scraped seeds)
150g double cream
Method
THIS TART CAN BE DONE THE DAY BEFORE
Preheat oven to 180∞C.
Place the hazelnuts onto a baking tray and toast in the oven for 5 mins, then let them cool.
Put the biscuits and 50g of the hazelnuts into a food processor and blitz to a fine crumb.
Melt the butter and add to the biscuit mix.
Press the mix into a 23cm-diameter tart tin. We find using a dessert spoon is good for pushing the mix into the grooves of the tin.
Place the tin on a flat baking tray and bake for 5 mins in the preheated oven, then set aside to cool.
Place the chocolate in a bowl over a pot of simmering water, making sure the bowl doesn't touch the water.
Once the chocolate has melted, take it off the heat and whisk in 250ml of the cream, then whisk in the rapeseed oil until it is all fully combined and glossy.
Pour this 'ganache' into the tart case and level it out. Place in the fridge to set.
Take the tart out of the fridge 1 hour before serving to let the ganache soften a little.
For the vanilla cream, whisk the cream to soft peaks, add the sugar and the vanilla and give it a whisk to combine. Chop the remaining hazelnuts and serve with the vanilla cream.
For further information on our hospitality services available within Kingsbridge Private Hospital, please click here. 
---