How I Became A... Senior Staff Nurse At Kingsbridge North West
13th, Mar 2023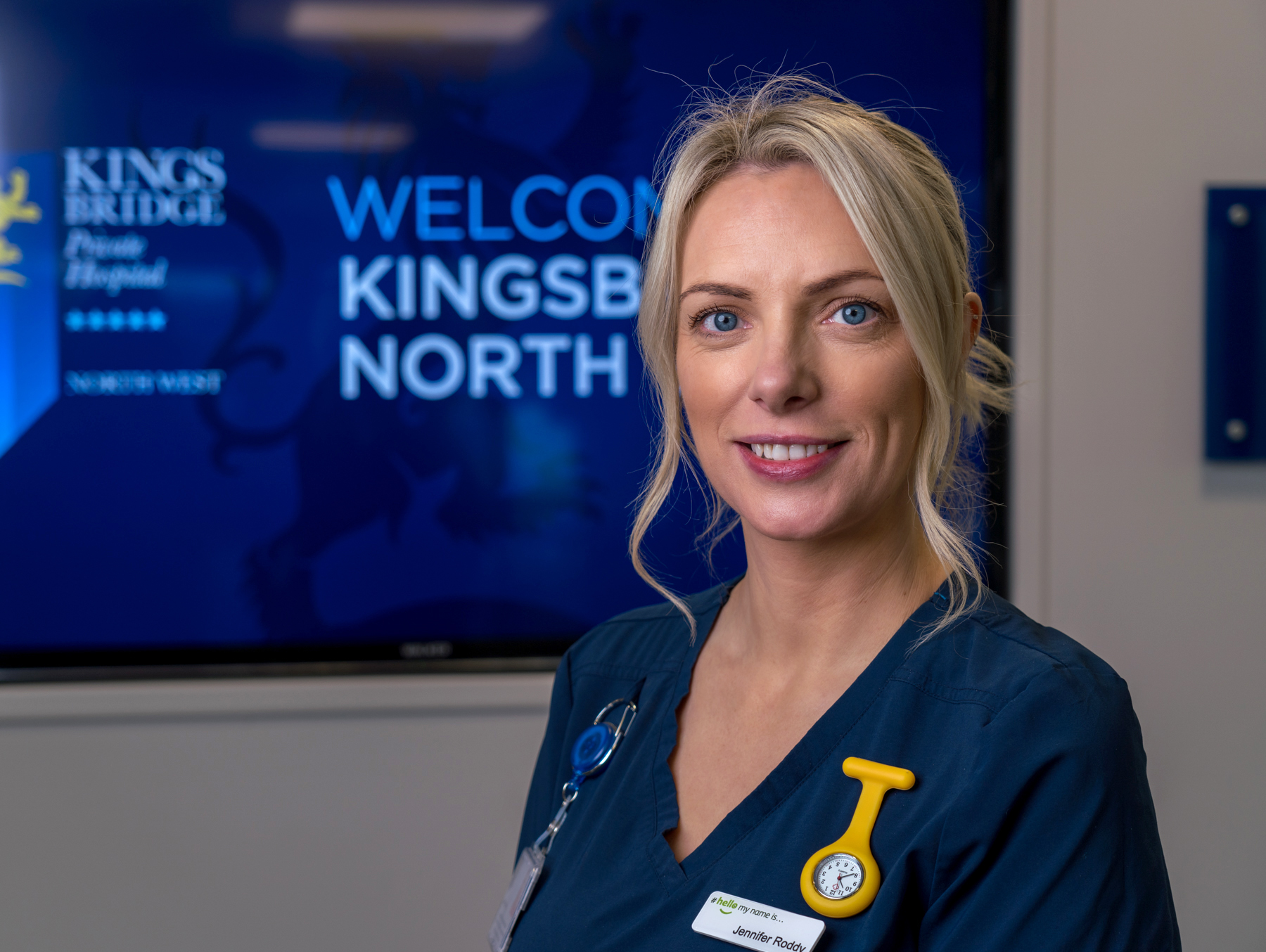 A caring outlook and the ability to work as part of a team are central to Nurse Jennifer Roddy's role as a Senior Staff Nurse at Kingsbridge North West. Jennifer recently spoke to the Belfast Telegraph about her role and offers her advice to anyone looking to follow a similar career path.
Give a brief outline of your career to date?
I qualified as an adult nurse in 2008 and my first post was in a care home for people with learning disabilities. I then joined my local trust hospital and worked in medical wards for 5 years. Although I enjoyed my job, I wanted to experience other fields of nursing, and I continued to look for opportunities in other wards and departments, whilst furthering my education. Around this time, I returned to university to study midwifery and once qualified, thought that I had found my lifelong career. At the time of qualification, jobs were scarce, and my local trust hospital advertised once a year for midwifery posts and, I returned to nursing until an opportunity arose to apply for a midwifery role. I applied for a role in surgical nursing and was successful. Instantly, I fell in love with this type of nursing. I enjoyed the fast pace, diverse nature of the work, finding it challenging and rewarding. Every day was different. After a year and a half as a surgical nurse, I was successful in my application for a midwifery post, and I worked as a midwife for 4 and a half years. Whilst I enjoyed my time as a midwife, I also realised that my heart was truly in surgical nursing. I joined Kingsbridge North West in 2020 and have never looked back. I have been successful in progressing my career in Kingsbridge, I have a leadership role as a Senior Staff Nurse in the Surgical Wards, leading our team and covering a wide range of surgical specialties. I love my job.
What was your favorite subject in school?
English and Science.
Did you go on to further/higher education? What did you study and where?
I studied BSc (hons) Adult Nursing at University of Ulster, in Derry and BSc (hons) Midwifery in Queen's University Belfast. I achieved first class honours in both degrees.
How did you get into your area of work?
I got into surgical nursing by accident, whilst awaiting for a midwifery opportunity, a post in surgical nursing caught my eye, I applied and was successful. I soon realised that surgical nursing is my preferred field and I continue to feel challenged and fulfilled each day.
Is this what you always wanted to do?
As a child, I always dreamed of a caring job, caring for others has always made me happy. I had a keen interest science at school. This did not change as I got older. Science was always my best subject and I have always found it easy to work with people. Nursing and midwifery seemed the perfect roles for me and that is what I strived for.
Where there any essential qualifications or experience needed?
I had no previous caring or nursing experience when I commenced my adult nursing degree, this did not hold me back. I left school at 15, with no qualifications and worked in a shirt factory which was a blessing as I learned about myself and gained the motivation needed to return to education. I returned to education when I was 17, studying GCSE English, Math's, and a medical secretary course. Whilst working as a medical secretary, I studied and completed a diploma in physiology in Open University. It was with these combined qualifications that I was successful in my application to the adult nursing degree programme in 2004.
Are there alternative routes into the job?
The main route into nursing in Northern Ireland is through university undergraduate degree programmes and depending on personal interest, students can study and qualify in one of, adult, learning disability, mental health or children's nursing. Midwifery study is also in the form of an undergraduate degree programme with many students completing this without prior nursing experience.
What are the main personal skills your job requires?
I believe one of the most important aspects of my job is having the skill to know your limitations, know when to ask for help and to work well as part of a team.
Ensuring that the best decisions are made for each individual patient is a team effort and there is no shame within this position to ask questions and learn from the multidisciplinary team. It is also important to have effective communication skills and of course to be empathetic and personable. Nurses learn to become good listeners and lifelong learners as your position is ever evolving to provide the best care for each patient you meet.
What does a typical day entail?
My day typically starts with meeting and admitting patients ahead of their procedures. As most patients will be nervous, I provide support and reassurance in a person-centred way. A nursing assessment is completed to ensure the patient is safely prepared physically and psychologically, meeting their individual needs, before proceeding to the operating theatre. Postoperative care includes direct clinical nursing care, nursing observation and intervention to identify and prevent potential postoperative complications as well as health promotion and patient education.
As a Senior Staff Nurse, my role as ward leader involves leading our team to provide quality care by ensuring safe staffing, having oversight of the needs of the ward and balancing delegation whilst supporting staff in their roles.
What are the best and most challenging aspects of the job?
The best aspect of my job is the high level of job satisfaction. Each day is different and dynamic, bringing its own set of challenges to overcome and I feel so rewarded in seeing patients recover from surgery in the knowledge that I am part of the team making a significant impact on their lives. I work as part of a talented team and Kingsbridge as an employer, offers many benefits including excellent rates of pay with enhancements, pension, private medical insurance and free meals and refreshments for all staff. Kingsbridge has recently expanded and continues to do so, providing jobs and career progression.
In terms of the challenging aspects of the job, nursing is a busy role, and the workload can be demanding. Surgical nursing can mean a high turn over of patients on any given day, especially as we promote enhanced patient recovery in Kingsbridge, allowing many patients to get home safely on the day of surgery. This challenge is also a reward to see patients safely discharged and off home to recuperate.
Why is what you do important?
Surgical nurses support patients from the moment they enter the hospital until discharge and beyond when needed. Safe and effective, efficiently delivered, person-centred care could not be provided to patients undergoing surgery without the expertise of surgical nurses.
How has Covid-19 impacted your role?
Covid-19 has changed nursing in many ways, but Kingsbridge has worked hard to maintain covid-free pathways so that patients can continue to have their surgery. Operating a covid-free environment has meant staffing challenges in an effort to ensure patients are safe. There can be additional time pressure on staff to ensure patients psychosocial needs are met as they are often without accompaniment of a loved one with reduced visiting. However, Kingsbridge has a high nurse-patient ratio, so we have been able to provide this additional support with careful planning.
What adjustments have you had to make?
The main adjustments have been the introduction of testing and vaccination, risk assessment and isolation for staff to ensure patients are being cared for in a safe environment.
What advice would you give to anyone looking to follow a similar career path?
Do not be afraid to try different areas of nursing until you find your calling. I never thought surgical nursing was for me until I tried it. The path from school to career is different for everyone and as I stated previously, I took a break from my education before deciding to return and thrive for this career. I started with no qualifications and through The Open University, the local technical college, and my job as medical secretary I was able to gain entry onto a nursing degree programme.
My top advice for anyone looking to do a nursing degree is that it is never too late to start your nursing journey.
If you were not doing this, what would you like to do?
I have always thought of myself as a creative person, and I know through having this role that I can make tough decisions. Therefore, I have always thought if my life had worked out differently, I might have made a good business owner.
What is one piece of advice you would give yourself on your first day?
"You do not need to know everything today"
Describe your ideal day off?
When I am off, spending time with my family is important to me.
What is the key to any successful job search?
Knowing what type of job you want is an essential step to any successful job hunt. However, be willing to try new avenues and apply for roles and positions that interest you. Do not be afraid to change role especially if you are in a job, you find unfulfilling. You never know, you might just find the job you were always looking for.
To view our current vacancies and to find out more about what it is like to work for Kingsbridge North West please visit our Careers page by clicking here
---