Kingsbridge Hearing Care Unveils Innovative New Clinic In Co.Down
17th, May 2023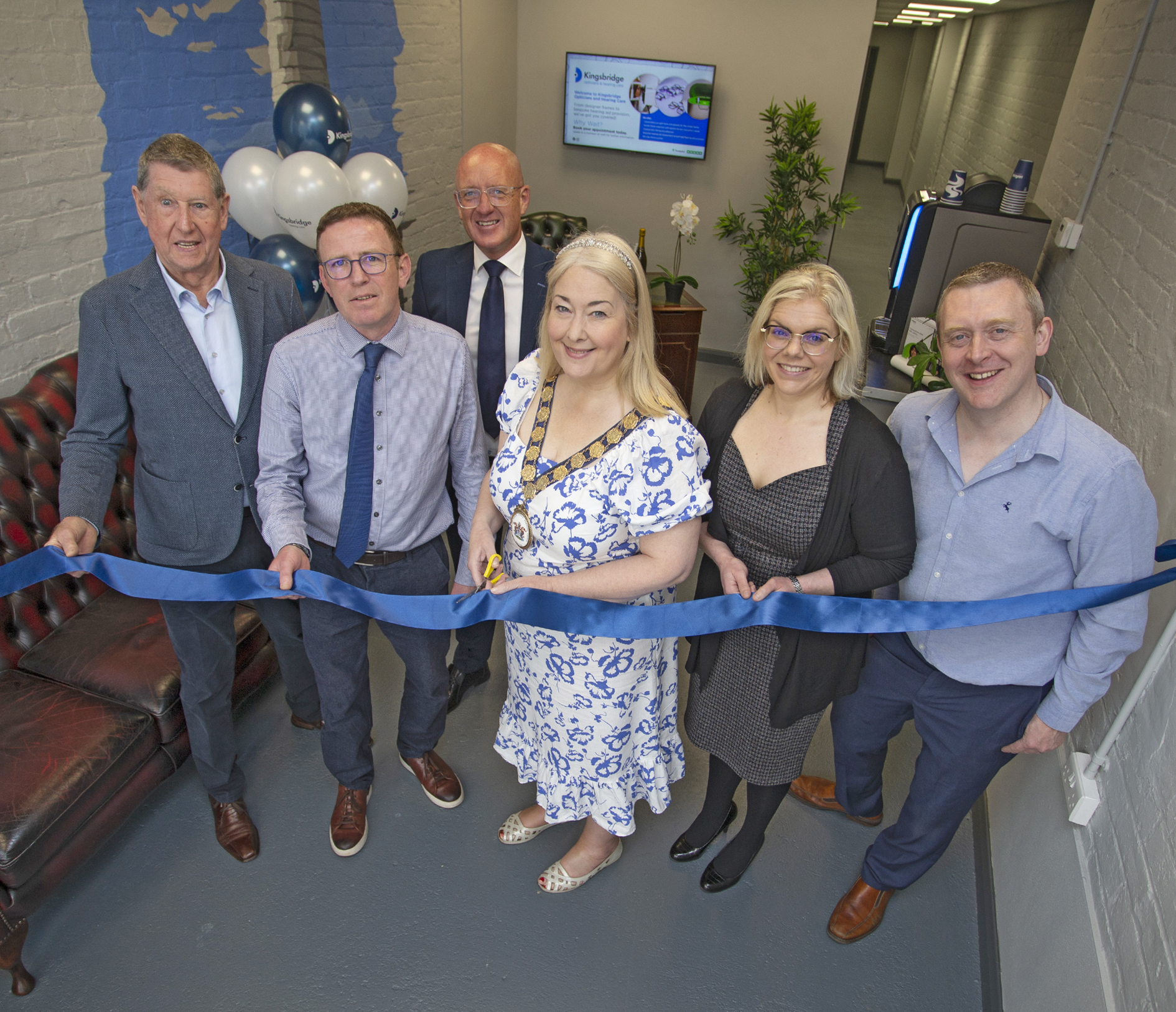 Healthcare Group invests £100k in new state of the art clinic to alleviate communication challenges for the people of North Down and Ards.
Kingsbridge Hearing Care, which is part of the Kingsbridge Healthcare Group has unveiled an exciting new clinic in Donaghadee, just a few doors down from its neighbouring Opticians. 
The £100,000 investment made by the Group which has four other practices across Northern Ireland will bring bespoke hearing care to the people of North Down and Ards area and will be managed by fully qualified Audiologists who are experts in complex hearing loss. 
Stephen Hunter, Managing Director of Kingsbridge Opticians and Hearing Care said: 
"Everyone is different so when we meet a person facing communication challenges, our team find it extremely rewarding to be able to tailor the latest innovations in hearing aid technology to address their needs. 
Many people currently find themselves on lengthy waiting lists for both initial hearing assessments and subsequent fitting of hearing aids; others are existing hearing aid users struggling to access services to maintain their hearing aids and meet their communication needs. 
The new clinic which was designed and refurbished by local architects, builders and suppliers will offer a holistic approach and patient centred care in delivering services like hearing assessments, bespoke private hearing aid provision and Ear Wax Micro Suction by our multidisciplinary team.  
Our main goal is to ensure people experience the same high standard of care we provide to patients in our Belfast, Newtownabbey, Holywood and Ballykelly clinics. This is why the new Hearing Suite at Donaghadee will include a soundproof booth and state of the art Speech in Noise Assessment facilities. 
By harnessing clinical information about our patient's hearing and speech processing capabilities, it allows us to offer the best solution for individual's communication needs." said Stephen. 
The Clinic officially opened its doors on Tuesday 16th May. Customers along with the local community are being encouraged to call in for a look round, meet the team and enjoy the celebrations. 
Speaking on behalf of from Donaghadee Community Development Association Denis Waterworth, Chairman said:
"We are delighted to see this new addition to the town centre and wish Richard and his team every success. More and more people are coming to Donaghadee to live, and this is a much needed facility for our townsfolk."
Visit kingsbridgehearingcare.co.uk for further information
Pictured by The County Down Spectator: The Mayor of Ards and North Down Karen Douglas officially opens Kingsbridge Hearing Care in Donaghadee with Denis Waterworth, Donaghadee Community Development Association Chairman, Nigel Bradley, Manager of Kingsbridge Opticians and Hearing Care, Richard Sweeney, Head of Products and Services at Kingsbridge Healthcare Group and CEO of Kingsbridge Opticians and Hearing Care, Caroline Fenning, Audiologist and Stephen Hunter, Managing Director of Kingsbridge Opticians & Hearing Care. 
---