Kingsbridge Signs Medical Partnership With Irish FA JD Academy & Kicks Off The Relationship With CPR Training For Elite Young Footballers
08th, Sep 2022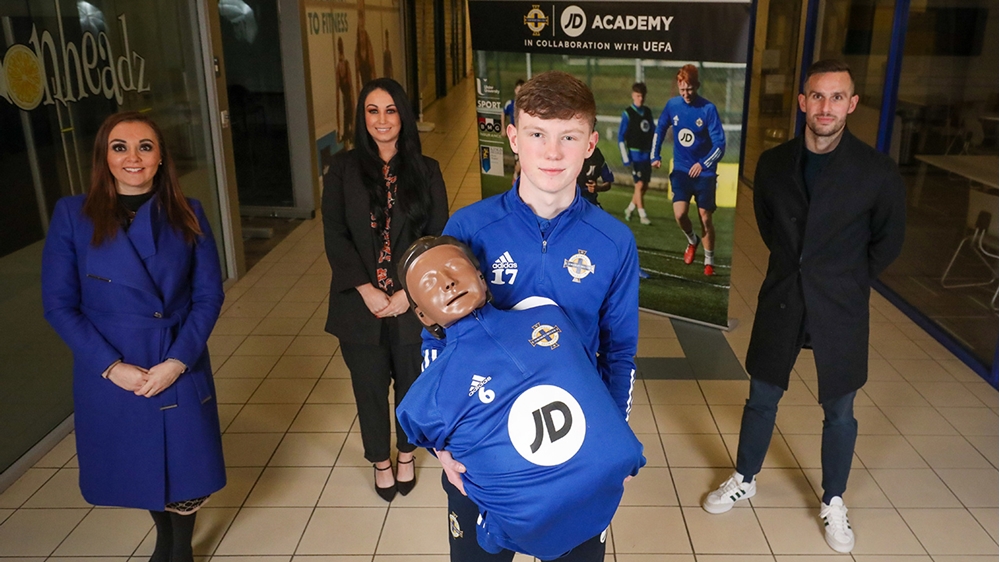 Kingsbridge Private Hospital Belfast, part of the Kingsbridge Healthcare Group, has become official medical partner and supplier of the Irish Football Association. Through the three-year partnership deal Kingsbridge will support the Irish FA's JD Academy, NI's only full-time residential academy for young elite footballers, and provide in-kind medical services each year. These services include player health and medical testing, as well as electrocardiogram (ECG) tests.
The Kingsbridge group has its own training academy which offers a range of courses, including CPR and AED courses and as part of the agreement with the Irish FA it is also providing free CPR (cardiopulmonary resuscitation) and emergency first aid training to the academy players.
Fiona Dowds, Group Corporate Strategy Manager and Head of Kingsbridge Training Academy, said: "We are delighted to partner the Irish FA and to provide a range of medical services to the association and we are keen to support the game in general across Northern Ireland through developing relationships and bespoke service packages to football clubs.
"We are particularly excited by the partnership with the academy, which will enable us to look after the health and wellbeing of potential international players of the future."
Andy Waterworth, head of the Irish FA JD Academy, said: ""We are delighted to work in collaboration with Kingsbridge. Naturally they will work closely with our medical team and support the players and staff within the elite youth programme professionally and clinically.
"We are driving standards to ensure that our programme is continuing to be 'elite youth' and this can be underpinned through this new partnership."
Kingsbridge offers the latest technological advancements in private healthcare across hundreds of specialties, including orthopedic, cataract, urology, and cosmetic surgery. It also has dedicated clinics covering prostate, sports injury, male and female health, GP services plus diagnostic services.
And the Belfast hospital boasts a newly opened intensive care unit (ICU) which will allow cardiac surgery to be carried out. KHG is the first private operator to provide a facility of this kind in Northern Ireland.
To mark the launch of the official partnership between Kingsbridge Private Hospital and the Irish FA a CPR and AED (automated external defibrillator) course was staged at the association's full-time residential JD-sponsored football academy, which is based at Ulster University's Jordanstown campus.
Two trainers, John Wilson and Aidan Early, were on hand to share their knowledge with 24 academy students and staff.
Kingsbridge Healthcare Group's Fiona Dowds pointed out: "This course was inspired by the incident at last summer's Euros involving Christian Eriksen (Denmark midfielder) when he collapsed on the pitch and required CPR.
"We feel it's important to give young players, in fact all players, life skills like CPR and the training to save a life."
Belfast-based Kingsbridge Private Hospital is part of the Kingsbridge Healthcare Group, Northern Ireland's largest private hospital group. In addition to hospitals in Belfast and Ballykelly the Group has a hospital in Sligo and outpatients' clinic in Letterkenny. Visit kingsbridgeprivatehospital.com for further information.
Source: www.irishfa.com
---