Kingsbridge Launch New Charitable Fund In Partnership With Community Foundation NI
24th, Mar 2022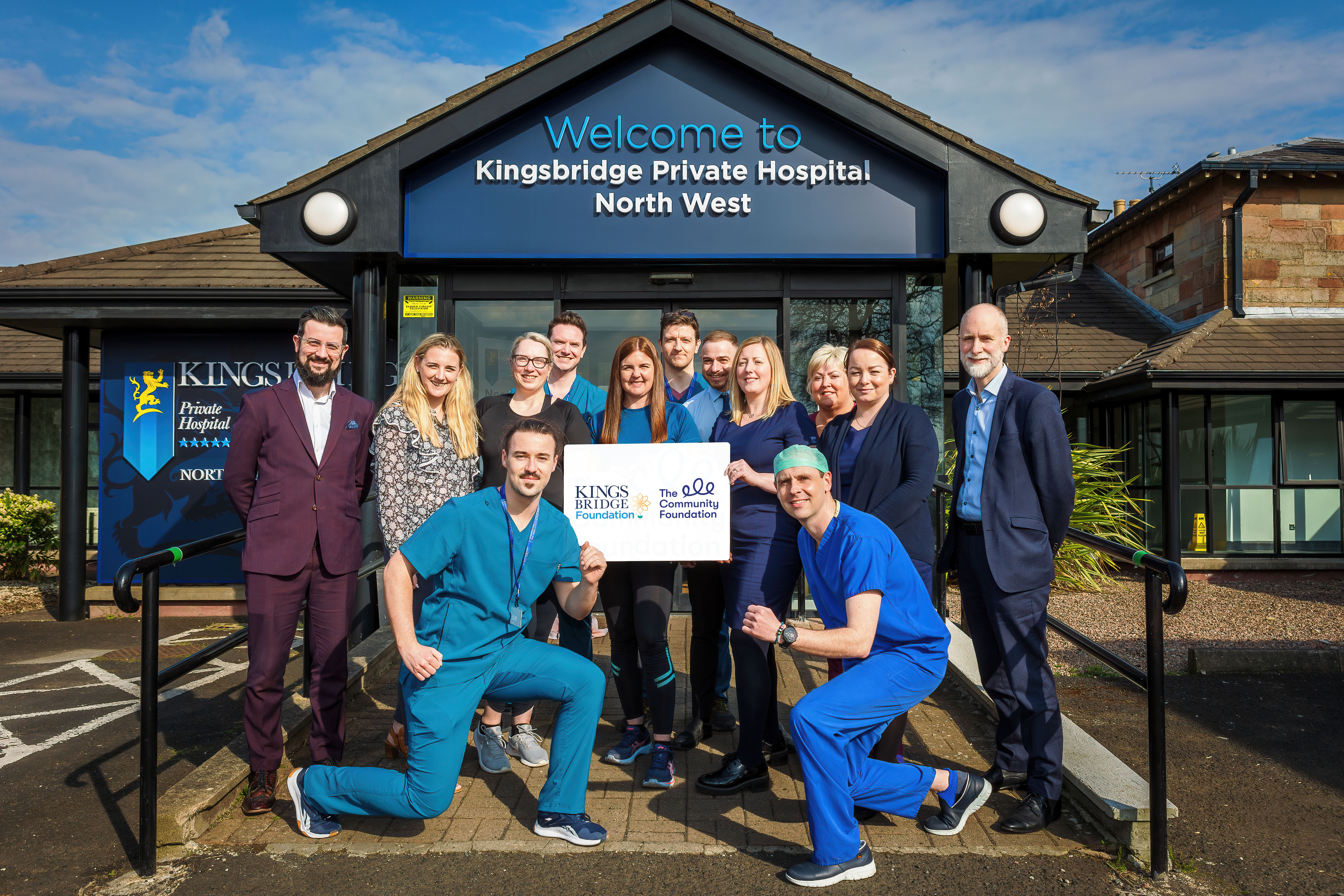 The Kingsbridge Healthcare Group is delighted to announce the launch of a new charitable arm of the Group called The Kingsbridge Foundation which is a giving fund that will be managed and supported by The Community Foundation for Northern Ireland, alongside an internal advisory board of staff from across their hospitals and clinics in Belfast and Ballykelly.
Working closely with the Community Foundation the fund will initially focus on raising money for the local community through charitable work, fundraising and initiatives, supporting charitable organisations and causes in Northern Ireland working in the areas of health and wellbeing, including mental health, disability, and physical health.
Kingsbridge has made an initial contribution of £50,000 and other sources of funding will come from staff fundraisers and donations, including additional support from CFNI.
Medical Director of the Kingsbridge Healthcare Group and Chair of the Kingsbridge Foundation Advisory Board, Dr Martin Shields said he was so impressed with the willingness from his colleagues and others, to help those in need.
"We are launching the new foundation by inviting staff, consultants and friends to take part in this year's Belfast City Marathon. To date we have 5 relay teams, dozens of staff participating in the 8 mile walk and several others running the full marathon, all in aid of the Kingsbridge Foundation.
"There is quite a buzz amongst the staff within the Kingsbridge Healthcare Group who have been busy giving their own time freely to train for the Marathon and fundraise behind the scenes, to ensure that we keep the fund topped up before we allocate the next cohort which will have a focus on loneliness and suicide.
"Already we have donated £20k to Cancer Fund for Children for Rory's Miles to Mayo, as well as other causes that the staff have approved funding for like the Christian Blind Mission, Lighthouse Charity and Positive Life amongst others".
"We are delighted to be in partnership with the Community Foundation NI who will work with us each year to guide and advise the Kingsbridge Foundation Advisory Panel on how to award funding and assist us in making a positive impact on health and wellbeing in our communities," said Martin.
Siofra Healy, Director of Philanthropy, Community Foundation commented:
"The Foundation is delighted to be working with the new Kingsbridge Foundation. The need for health and wellbeing support has been increasing as we emerge from lockdown and restrictions.  Giving together is an empowering experience, and engaging employees to support the causes that are the most important to them is an excellent example of how philanthropy can support causes at a local level."
To find out further information please contact charity@kingsbridgehealthcaregroup.com or if you would like to support the Kingsbridge Fund, please donate via our Just Giving Page or for other methods please go to our Kingsbridge Foundation Website
Pictured above (L-R): launching the new Kingsbridge Foundation are Anthony McKenna, General Manager of Kingsbridge North West with Community Fund Representative and staff from across the hospital.
---