Concerned About Your Health?
10th, Feb 2021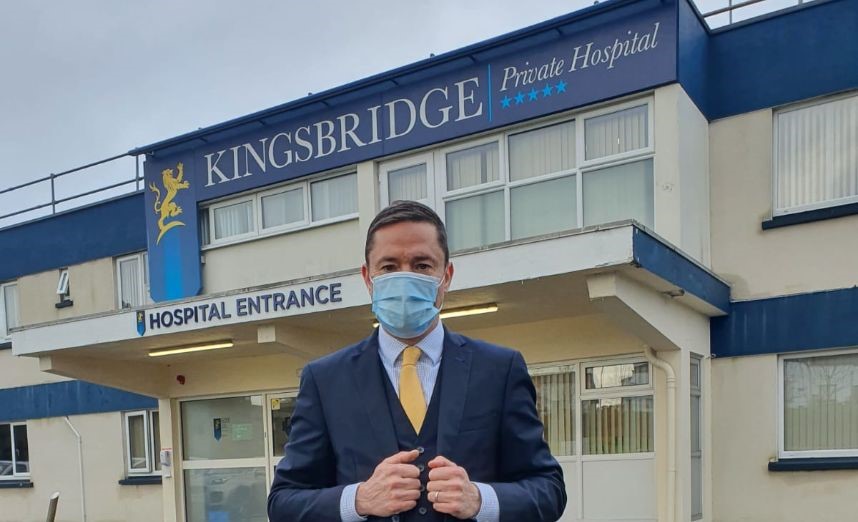 Kingsbridge Private Hospital Sligo is fully open for consultations, treatments and surgeries with strict health and safety measures in place to help keep you safe during these difficult times.
Conor Fleming, Business Development Manager at Kingsbridge Sligo, located on the Ray McSharry Road tells us how they have been supporting the HSE throughout the current pandemic and what the future looks like for Kingsbridge Sligo.
What services are most people looking for at the moment and what can Kingsbridge Sligo offer?
Patients want to know that our highest priority is their safety. As a JCI accredited hospital we have the very highest standards of hygiene and we thoroughly understand how to keep all patients that enter our facility safe. Secondly, whether a patient is medically insured or choosing to self-pay, we can help with a wide range of treatments and surgeries including Ophthalmology, Urology, Gynaecology and General Surgeries. Finally, our surgeons are all on the specialist register. This means that when patients come to us, they are being treated by the very best surgeons in the country.
Can you travel from neighbouring counties?
Yes. Patients who have consultant appointments are allowed to travel between counties at all times.
How has Kingsbridge Sligo been able to support the HSE during the pandemic?
The very moment the pandemic hit we knew our first priority was to reach out to our local and surrounding public hospitals and let them know that we are here to help in any way we can. Sligo University Hospital have been assessing patients in our facility since the Summer of 2020 and this is ongoing. We understand in Healthcare that all hands are on deck at all times. The Kingsbridge Healthcare Group has been built on these foundations.
What do you see as the changing face of healthcare here in Sligo?
Primary care centres are a wonderful initiative initiated by the HSE as they ease the burden on public hospitals. However, waiting lists have got commensurately longer through Covid and this is impacting patient's welfare. We notice a large pick up in patients looking to self-pay for treatment and also explore the cross-border directive by travelling to Kingsbridge Private Hospital in Belfast to avail of faster treatment. This initiative is set to remain in place for the foreseeable future.
What plans do you have for expansion and what will this deliver for local people?
We are delighted to say that we have a planning application in for a new hospital build. This will include full diagnostics, new theatres, more beds and increased out-patient space. In effect this will mean that our people in the North West of Ireland will have an option to be treated in a full suite private hospital in Co.Sligo. Keep an eye out, More information coming soon!

At the core of Kingsbridge Private Hospital Sligo is the understanding that your health is of paramount importance, providing excellence in private healthcare right on your doorstep.

For a full list of treatments, services and consultant, please visit kingsbridgeprivatehospital.ie

To book an appointment, please call is on 071 916 2649

For further information on current Covid-19 guidelines in ROI, please visit www.hse.ie
---