Roasted Duck Breast, Roast Parsnip, Blackberry and Thyme Sauce, Spinach and Crispy Potatoes
11th, Sep 2019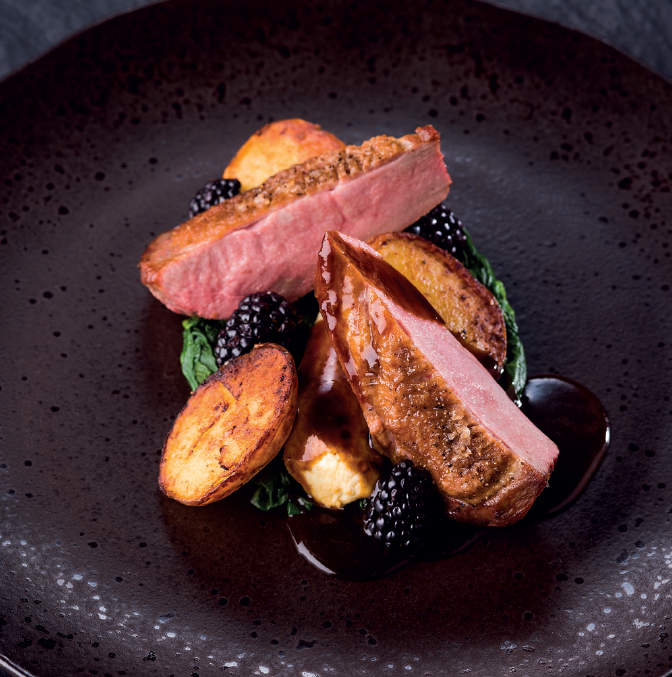 Duck is a nice way to incorporate some variety into your protein choice. Blackberries and spinach are packed with antioxidants and minerals all helpful to aid a speedy recovery.
Ingredients
4 duck breasts
2 parsnips
200ml red wine sauce
3 sprigs of thyme
50g blackberries
300g baby boiled potatoes (cooked and slice lengthways)
small bag of spinach, (washed and dried)
10g butter salt and pepper rapeseed oil
Method
• Preheat the oven to 190°C.
• Peel and cut the parsnips in half lengthways, toss in a little oil and season with salt and cracked black pepper. • Place on a baking tray and roast for 20 mins or until soft but not mushy.
• Score the duck skin and season with salt and pepper.
• Heat a heavy based pan on a low heat and place the duck skin side down
• Raise the heat a little and cook for 5 mins until the skin is crispy and the fat is rendered out.
• Place the duck on a tray and put into the oven for 8 mins but keep the duck fat for the potatoes.
• Press the duck with your finger, it should be firm but still a little springy to touch.
• Cover with foil and rest for 8 mins (you must rest the duck).
• Bring the sauce and the thyme to the boil and reduce by half.
• Fry the potatoes in the duck fat and keep them warm along with the parsnip.
• Heat the butter in a pot and add the spinach, season and stir until it has all wilted.
• Drain in a sieve and keep in a warm place.
• Just before serving heat the blackberries in the sauce.
• Slice the duck in half lengthways.
• Dress the plate with the spinach, parsnip and potatoes, finish with the duck and sauce.
---