Anti-Wrinkle Injections

Anti-wrinkle serum is a non-surgical injectable treatment that is used to treat dynamic lines and wrinkles caused from expression, making lines and wrinkles, such as crow's feet and frown lines less obvious.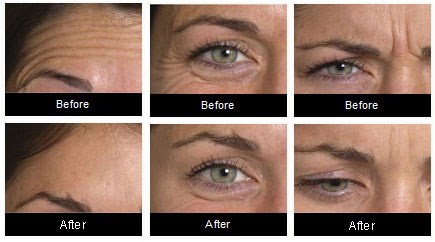 Anti-Wrinkle Injections for Face Slimming
Non-surgical jaw reduction can be achieved using botulinum toxin. Injections into the jaw muscle (Massester muscle) to reduce the size of the muscle and thereby reducing the size of the jaw.  This treatment can transform the jaw from a square shape to a more feminine 'V' shape.  The injections do this by weakening the jaw muscle over time.
Not everyone is suitable for non-surgical jaw reduction and a Cosmetech Consultant will evaluate patients before deciding to provide treatment.  How suitable a patient is will depend on the size of their jaw muscle.
This is a relatively painless procedure with no downtime and little swelling or bruising. Depending on muscle size, patients may need up to 3 treatments to obtain maximum effect.
It can take up to 6 weeks for the effects of the procedure to become visible and results can last from 6 to 12 months.
Anti-wrinkle serum can be used to create a slimmer face.
Anti-wrinkle serum is injected to each side of the face into the masseter muscle. This weakens the muscle to create a slimmer more feminine appearance to the jawline.
Anti-Wrinkle Injections for Neck Banding
Anti-wrinkle injections can be used to soften neck banding, fine lines and wrinkles.
Brotox For Men
Anti-wrinkle injections for men is referred to as Brotox this treatment softens frown lines and wrinkles on the forehead and around the eyes, resulting in a fresher look.
Anti-Wrinkle Injections FAQs
Are there any side effects of anti-wrinkle serum?
Anti-wrinkle injections are relatively safe. Though minor side effects can occur and include:
Pain, swelling or bruising in the area where the anti-wrinkle serum was injected
Headache, tiredness or flu-like symptoms
Droopy eyelid or arched eyebrows
Crooked smile or drooling
Eye dryness or excessive tearing
Who performs the treatment?
Anti-wrinkle treatments should be administered by an experienced, highly trained practitioner, in a clean and hygienic medical environment. It's important that injections be placed precisely in order to avoid side effects. Anti-wrinkle therapy can be risky if it's administered incorrectly. Cosmetech's consultant surgeons have a background in head, neck and face reconstructive surgery, plastic surgery and maxillofacial surgery.
What happens during an anti-wrinkle consultation?
Your consultation for Anti-wrinkle treatment will be with a highly trained medical professional who is experienced in administering injectables. In order to ensure we achieve the results you want, we will discuss with you your skin concerns and advise on what treatment will work best for you. At our no obligation consultations we aim to help you understand the treatment, its effects and how it will work to prevent and improve your fine lines.
If you would like to book an appointment or require further information on the available options, please do not hesitate to contact our private patient booking team via our online enquiry form.

Alternatively, email Kingsbridge Cosmetic Clinic
;