Kingsbridge Private Hospital is here to help when your lifestyle is compromised by chronic spinal pain. When simple treatments fail to relieve your back pain, seeing a pain specialist is vital.
Chronic Spinal Back Pain
Low back pain is pain, or stiffness in the lower back with or without leg pain (sciatica). Left untreated, this can be debilitating and can have a significant impact on your quality of life, causing frustration and even depression
About 80% of people experience low back pain at some stage of their life. In the vast majority of cases, this is a self-limiting condition and not due to any serious cause. In this situation, the condition is known as non-specific or mechanical low back pain. Sixty percent of patients with acute low back pain recover in 6 weeks and up to 80% to 90% recover within 12 weeks. If the pain persists for greater than 3 months, it is considered chronic back pain.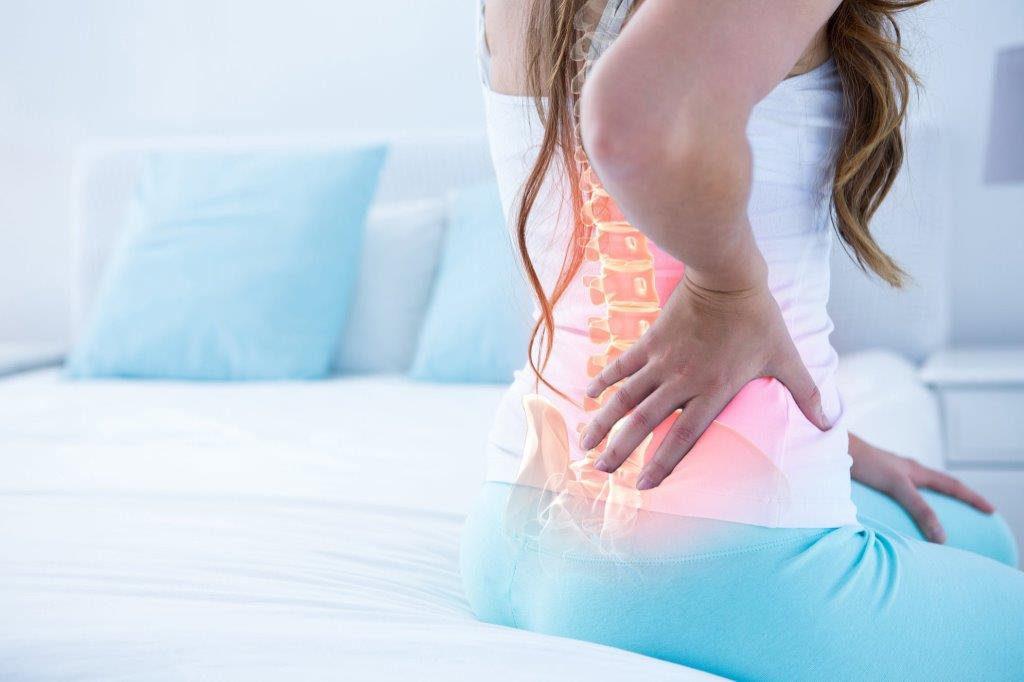 Do I Need a Scan for my Back Pain?
For the majority of cases of low back pain, a scan is not necessary. There are certain 'red flags' indicators in your medical history which your pain specialist will ask about. If you fulfil several of these 'red flags' your specialist will organise a scan.
Red Flag Back Pain Indicators include:
Previous history malignancy
Aged under 16 or over 50 with new onset pain
Unexplained weight loss
Longstanding steroid use
Saddle anaesthesia
Reduced anal tone
Generalised neurological deficit
Progressive spinal deformity
Urinary retention
Non-mechanical pain (Night pain, pain at rest)
Thoracic pain
Fever/ rigors
General malaise
As part of the initial assessment, your specialist will consider your 'red flags' and make a judgement as to whether a scan is necessary. If a number of red flags are present and your specialists considers a scan is necessary, this may lead to a referral to a Spinal Surgeon for an opinion. This happens only on a very small minority of cases.
Do I need surgery for my back pain?
Approximately 98 percent of back pain patients are diagnosed with non-specific acute back pain in which no serious underlying pathology is identified. Therefore, for the vast majority of cases of back pain, surgery is not indicated nor required. The latest NICE guidelines state that surgery should not be considered for mechanical (non-specific) low back pain.
What treatments are offered for back pain?
All treatments are offered in conjunction with the latest National Institute for Clinical Excellence (NICE) guidelines (Low back pain and sciatica in over 16s: assessment and management (NG59 Nov 2016)
Initial treatments offered include medical management and access to physiotherapy.
Other more interventional treatments for low back pain, including sciatica, include:
Radiofrequency denervation techniques
Sacroiliac joint injections
Caudal injections
Lumbar epidural injections
Nerve root blocks
Trigger point injections
Do Pain Specialists treat any other conditions?
Pain specialists treat a wide range of chronic pain conditions including:
Headaches
Chronic Facial Pain
Trigeminal Neuralgia
Migraine (Including Botox Injections)
Neck Pain
Whiplash Injury
Post Hepretic Neuralgia (Shingles pain)
Fibromyalgia
Adhesive Capsulitis (Frozen Shoulder)
Post Hernia Surgery Pain
Back Pain
Chronic Abdominal Wall Pain
Coccyx Pain
Diabetic Peripheral Neuropathis Pain (DPNP)
Sciatica
Trochanteric Bursitis
Sacroiliac Joint Pain
Knee Pain
Myofascial Pain
Neuropathis Pain
Plantar Fascitis
Post Surgical Pain
If you would like to book an appointment or require further information on the available options, please do not hesitate to contact our private patient booking team via our online enquiry form.

Alternatively, email Kingsbridge Private Hospital
;