Fat Dissolving Injections
Despite exercise and a good diet, excess fat in localised areas can be an issue for many men and women,  These localised fatty deposits are sometimes hard to remove.  Aqualyx Fat Dissolving Treatment is an alternative to liposuction which may seem too invasive and extreme a treatment.

Aqualyx Fat Dissolving Injections is a fat dissolving treatment that targets fat removal from certain areas. Lipolysis is particularly successful when used to treat submental fat in the area beneath the chin. This will improve and refine the patient's jawline and profile.
Lipolysis consists of an aqueous compound solution, with slow-release sugar that minimises side effects. It contains deoxycholic acid which has been used in various fields of human medicine since its discovery. Present also in the human body, deoxycholic acid is used in the emulsification of fats for the absorption in the intestine.
Lipolysis Treatment Areas:
Stomach (Inc. six pack definition)
Love handles
Arms
Chin
Flanks and waist
Inner and outer thighs
Underarms and armpits
Under-bra area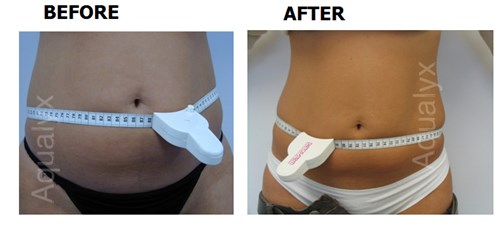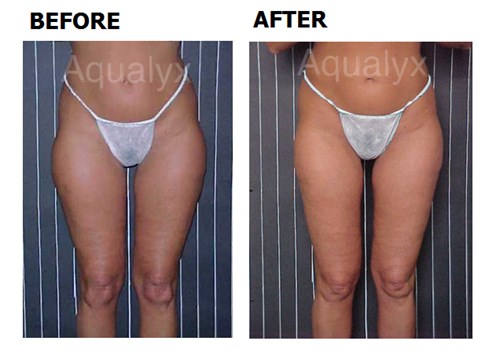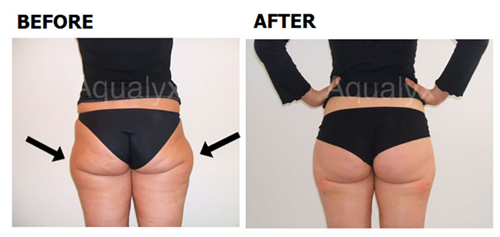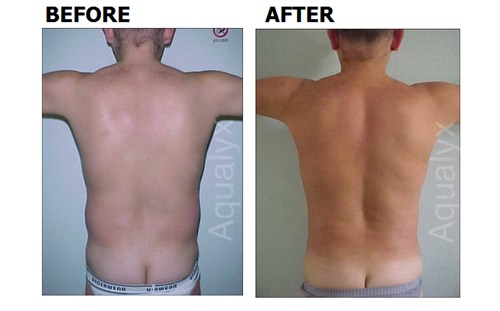 Procedure Time
The time taken for a treatment session will depend upon the size of the area being treated. Treatment can take between 30- 45 minutes and you will typically require 2–3 treatments, 4 weeks apart.
Result Duration
The results of Aqualyx  are permanent under the condition of maintaining a constant weight measurement (i.e. assuming you do not gain weight). Once the freed fatty acids have been processed through the body's lymphatic system, they don't reappear. However, the procedure is only permanent if you follow a healthy diet and exercise frequently following treatment. If you regain weight, it is likely that the fat pockets will reappear. If a healthy lifestyle is maintained, the results should be permanent. It can take up to 3-4 weeks after the first treatment before you see results  a course of is recommended
Anaesthetic
Local anaesthetic and topical numbing cream.
Back to work
You can resume normal activity immediately following the treatment.
Sensitivity, side effects and risks
People treated with Aqualyx will typically experience minimal side effects when compared to more invasive procedures, such as liposuction. Side effects include some redness, swelling and tenderness in the treated area. Some people may experience some light bruising, but this and any other side effects will usually resolve within a few days. You may need to take over the counter painkillers to control any pain-related side effects.
Contraindications
As long as you are generally healthy and don't have any skin diseases or infections in the area treated, there are few medical reasons why you should not undergo this treatment. However, Aqualyx is not recommended for women who are pregnant or breast feeding; patients with auto-immune disease, diabetics and patients who have had severe anaphylactic reactions and allergies. It is also not recommended for those people who have been diagnosed with lipodystrophy or any pathological conditions.
Who performs the treatment?
One of our trained Consultant Surgeons.
Lipolysis Aftercare Advice
Immediately after treatment, there may be slight redness, swelling, tenderness and an itching sensation in the treated area. The results directly after the treatment should not be seen as the final result. Avoid touching the treatment area 6 hours after the treatment.
Chin Fat Dissolving Injections
TREATMENT FOR DOUBLE CHIN
Belkyra is the first and only FDA (U.S. Food & Drug Administration) approved injectable treatment that destroys fat cells in the treatment area under the chin to improve your profile.
Cosmetech are the first clinic to offer this treatment in Northern Ireland. The clinic also offers other brands of fat dissolving injections including Aqualyx that are used to treat areas on the body.

How the treatment works?

The active ingredient in fat dissolving injections is synthetic deoxycholic acid. Deoxycholic acid is a naturally occurring molecule in the body that aids in the breakdown and absorption of dietary fat. When injected it dissolves the fat resulting in a noticeable difference. Once destroyed these fat cells can no longer store fat.
What area does it treat?
Fat dissolving injections are used to treat the appearance of moderate or severe fat located on the face. It is a non-surgical alternative to liposuction which carries fewer severe risks.
Treatment areas include:
Inner thighs
Abdominal areas
Upper arms
Back fat
Double chin
Knee areas
Procedure time

30 -45 minutes
How many treatments are required  ?

Each treatment session involves multiple injections in the specific area. Most patients will require 2-3 sessions with an interval of 4-6 weeks apart, some patients may decide they don't need to do more. Up to a maximum of 6 sessions can be performed.
When can you see results ?

Fat dissolving injections work over 4 to 6 weeks, patients will have a review after this time with their doctor to determine if they need further treatment.
How long do the results last?

When injected fat dissolving injections cause the destruction of fat cells after treatment the fat cells can no longer store fat. No maintenance or upkeep treatments are required.
Is local anaesthetic required?

A local anaesthetic is used to numb the treatment area.
What is the recovery time and side effects ?

Patients can experience the following side effects  numbness, redness, nodules bruising and firmness at injection sites which normally resolves over 4-6 weeks.
Who performs the procedure?

Consultant Maxillofacial Surgeon Mr Gerard Smith, Consultant Plastic Surgeon's Mr Christopher Hoo and Dr Victoria McAfee  are Trained and Certified Doctors and eligible to use  the product . Their completion of the training programme has put them amongst the elite group of Doctors in the UK who can use this medicine. The treatment may  be right for you if:
Your bothered (unhappy, self- conscious or embarrassed) by localised areas of fat.
You feel the condition makes you look older or heavier than you actually are
You don't want to have surgery
You eat well and exercise, but the localised areas of fat do not go away
Aftercare Advice
Do not apply any cosmetics onto the treated area within the following 12 hours and avoid all direct sources of heat and radiation (sunlight, UV-radiation, sauna etc.) Furthermore you should abstain from particularly demanding physical exercise for 7 days.
If you would like to book an appointment or require further information on the available options, please do not hesitate to contact our private patient booking team via our online enquiry form.

Alternatively, email Kingsbridge Cosmetic Clinic
;