Full range of GP services available at Kingsbridge Private Hospital
Enhanced GP Services
We offer the full range of GP services in a private setting on a convenient and readily accessible basis, with same day appointments usually available.
Need to be treated urgently for a minor illness or injury?
Our Minor Injuries Clinic is run by a highly-experienced team of Consultants and Specialist Nurses. We aim to provide the highest level of care in a state-of-the-art facility without lengthy waiting times. It is our aim to see all patients within one hour of arrival.
What can be treated at our Private GP Clinic?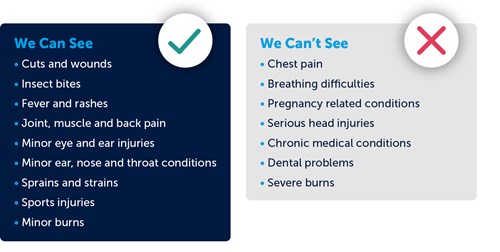 Our Enhanced GP Service also includes:
Minor Injuries
Pre-employment medicals
Health and wellbeing screening packages
Family vaccinations
Travel vaccination services
Family planning
Counselling services
Full range of blood tests, ECG & blood pressure checks
Sleep Apnoea screening
Flu Jabs
How Much Does It Cost?
| | |
| --- | --- |
| Service | Cost* |
| Travel Assessment | £40 |
| Nursing time | £40 |
| Initial nurse triage fee | £39 |
| Private GP consultation                        | £109 |
| Specialist consultation | From £150 |
| Covid Testing | £89 |
| MRI | From £400 |
| CT | From £475 |
| X-ray | £133 per area   |
*Additional investigations, consumables and/or laboratory tests will occur additional charges.  Prices are correct as of Dec 2021 and are subject to change.

We have facilities at our Private GP and Minor Injuries Clinic to accept both card and cash payments. Please note that payment will be required at time of treatment. Further pricing can be provided on an individual basis by a member of our team. If you are insured, please contact your health insurance provider to check what is covered by your policy.
GP-Led Health & Wellbeing Clinics
Our Enhanced Private GP Service offers a series of GP-Led Health & Wellbeing Clinics to help answer any concerns you may have and if necessary, move you in the right direction to the treatment you require.

Are you a new mother?
Are you concerned about your new-born's health?
Do you need a health check for you and your baby?

Our GP-Led Mother & Baby Clinic gives you the chance to discuss any worries you may have for you and your baby. Our Private GP can help provide you with the answers you need and a referral onwards if required.

Visit our Mother & Baby Clinic page for further information


Have you been feeling more anxious than normal?
Are you finding it hard to keep a work life balance?
Is your child presenting low moods?

Our mental health is just as important to look after as our physical health. Especially during such difficult times, we are all struggling a little more than normal. However, if you or a loved one is finding it hard to cope with the current pressures of life and are experiencing symptoms of depression or anxiety, reaching out and finding a solution can help.

Our Private GP's can provide you with the right steps to take to try and make things that little bit easier for you! 

*Please note, drug-use and more extreme mental health issues will require further assistance from specialists and waiting lists are still to be expected.

At Kingsbridge Private Hospital, we offer Psychiatry and Clinical Psychology services. Click here to find out more.





Have you been feeling under the weather?
Are you experiencing uncomfortable strains or pains?
Does your son have a health concern?

At our Men's Health Clinic, our Private GP's are here to discuss any concerns you may have, from adolescents to adulthood, from aches and pains to sexual health concerns.

Our range of Men's Health services can be found in our Men's Health Clinic section. 





Worried about a lump, bump, pain or unexplained bleeding?
Experiencing unusual urinary symptoms?
Do you suffer from skin acne?

At our Women's Health Clinic, if you are worried about a symptom, why wait weeks on a GP appointment? Our Private GP will assess you and arrange an onward referral if needed. Our women's health clinic is suitable for all ages.

Our range of Women's Health services can be found in our Women's Health Clinic section.
COVID-19 UPDATE
All appointments will be conducted according to all current health and safety measures.
Appointment times are also being spaced out to allow patients to remain as socially distanced as possible. We want to keep you safe!
Please note: You will not be able to attend your face to face appointment if any of the following apply:
You are experiencing any of the common Covid symptoms (temperature, cough, loss of taste/smell)
You currently have Covid 
You have had a positive Covid result in the last 12 days
If you would like to book an appointment or require further information on the available options, please do not hesitate to contact our private patient booking team via our online enquiry form.

Alternatively, email Kingsbridge Private Hospital
;