What is the Prostate?
The prostate is a small gland, about the shape and size of a walnut. It sits beneath the bladder and surrounds the first section of the tube that carries urine from the bladder through the penis (urethra).
The main function of the prostate gland is as a male reproductive organ. It produces the fluid that mixes with the sperm from the testicles to make semen. It also produces a protein called prostate-specific antigen (PSA) that turns the semen into liquid, enabling it to be expelled during ejaculation.
Benign Prostate Enlargement
The prostate gland is only found in men and gets a little bit bigger with age. The medical terms for an enlarged prostate are Benign Prostatic Enlargement (BPE), alternatively referred to as Benign Prostatic Hyperplasia (BPH).
An enlarged prostate causes the walls of the urethra to narrow and squeeze together resulting in urinary retention, with symptoms such as slow urine flow and a need for frequent urination.  
An enlarged prostate has a significant impact on a man's quality of life. Sufferers may find that they need to stay near a toilet, which can make it difficult to work, drive, be outdoors and attend social events. If you are getting up a lot during the night to go to the toilet, you may find you feel more tired during the day.
The condition is common in men after the age of fifty, with about 40% suffering urinary symptoms associated with an enlarged prostate. That figure rises sharply to approximately 70%, for men over the age of sixty.
Symptoms Caused By Enlarged Prostate
An enlarged prostate is the most common cause of urinary symptoms in men as they get older.  
BPH can lead to urinary retention problems with symptoms such as: 
         Weak or slow urine flow 
         Frequent urination, especially at night
         Urgent need to rush to the toilet, with occasionally leaking
         Difficulty urinating and fully emptying the bladder 
         Feeling that your bladder has not emptied properly
         Urinary stream that starts and stops
         Difficulty or delay in starting urination
         Needing to push or strain to start urinating
         Dribbling urine
         Blood in urine
Treatment Options for Enlarged Prostate
If you have been diagnosed with an enlarged prostate and suffer from urinary symptoms, there are several treatment options available.
Medicines
These medicines relax the muscles in the prostate and around the neck of the bladder, making it easier to pass urine. They do not cure an enlarged prostate but they can help to relieve symptoms.
Like any medicine, some patients may experience side-effects including dizziness, headaches, or sexual dysfunction. Also, some may not get adequate relief of their symptoms. Over 20% of men on medication for enlarged prostate discontinue treatment early for reasons such as being dissatisfied with side-effects or not getting adequate symptom relief.
Urolift® - The Revolutionary Treatment for Enlarged Prostate Urinary Retention
Urolift® Surgery is an innovative new treatment for enlarged prostates (BPH) which helps with symptoms such as urinary retention and slow urine flow. 

Further information on the patient pathways and treatments offered is available at specialist Kingsbridge Prostate Clinic website.
The Urolift® System is a revolutionary approach to treating benign enlarged prostate. Urolift® Surgery is an innovative and minimally invasive new treatment for enlarged prostates which helps with symptoms such as urinary retention. 
The treatment involves lifting and holding the enlarged prostate tissue out of the way so it no longer blocks the urethra. It is the only procedure for an enlarged prostate that does not require cutting, heating or removal of the prostate tissue.
The prostatic urethral lift (PUL) procedure using the Urolift® device is now available at Kingsbridge Private Hospital, Belfast and is carried out by our consultant urologist Mr. Ajay Pahuja. 
UroLift® System Treatment for BPH and Urinary Retention
The Urolift® system procedure is a revolutionary, minimally invasive procedure. It is a very quick procedure, usually taking less than thirty minutes.  Urolift also differs from other enlarged prostate treatments in that there is no cutting, heating or ablating tissue involved which means the treatment preserves sexual function.
Patients are normally able to leave the hospital within a few hours of the operation and can return to normal activity as soon as they feel confident to do so. Patients have experienced BPH symptom relief, such as relief from urinary retention and slow urine flow, as early as two weeks post operation.
Benefits Of Urolift® for Treating Enlarged Prostate
         Rapid symptom relief
         No negative impact on sexual function
         Less invasive than surgery
         No cutting, heating or removing prostate tissue
         No bleeding
         Consistent results
         Considerably less expensive than surgery
Thermotherapies
Thermotherapies are minimally invasive treatments where heat energy such as microwave or radiofrequency is applied to prostate tissue. Less invasive than major surgery TURP (see below), these treatments are generally safe, can be performed under local anaesthesia and provide moderate symptom relief for some patients.
Laser Surgery
TURP may be performed with a laser in procedures called photoselective vaporisation of the prostate (PVP). Laser therapy lessens the bleeding risks of traditional TURP. However, since prostate tissue is still removed, there can be tissue swelling and an uncomfortable healing time and, typically, a catheter has to be inserted into the bladder after the procedure.
Major Surgery - TURP
This is an operation to remove the parts of the prostate gland that have overgrown and are pressing on the tube that you pass urine through (the urethra). It is the most common type of surgery for treating an enlarged prostate.
The surgeon passes a thin tube into the urethra through the penis. The tube has a small camera on the end for the surgeon to observe the prostate. An electrically-heated wire loop is then passed through the tube to remove small pieces of prostate tissue. During the operation, fluid is passed into the bladder to clear away the small pieces of prostate tissue that have been removed. After prostate tissue has been removed, the body needs time to heal. The remaining prostate tissue may actually swell and become inflamed before the desired shrinking effect occurs. Patients may suffer an uncomfortable recovery period that includes short-term problems such as bleeding, infection, erectile dysfunction, and urinary incontinence. Patients will have a catheter that is attached to a urine bag inserted into their bladder for several days after the procedure.
There can be long-term side effects after TURP such as dry orgasm (retrograde ejaculation), erectile dysfunction or incontinence (leaking of urine).


Urolift Case Studies
Many men have had their lives transformed by the Urolift® system for treatment of urinary retention caused by their enlarged prostate conditions.
Case Study 1 - Business Man Philip Gets Back On The Road After Urolift Treatment
Business owner Philip Dawson, 59, suffered weeks of constant and debilitating discomfort, pain and distress as a result of a non-cancerous growth of the prostate gland that led to serious urinary problems.
Philip chose to have the ground-breaking UroLift procedure when the symptoms of his BPH reached an acute stage and he developed a urine infection. Prior to undergoing the treatment Philip rarely wanted to leave his home and was always careful to be close to toilet facilities in case he felt the urgent need to go. The UroLift procedure took less than an hour and enabled him to quickly get back to leading a normal life again. In a matter of weeks, he was back on his motorcycle and back running his business.
Read the full account of Philip's Urolift Treatment and how he got back on the road after having the ground-breaking enlarged prostate treatment.
Case Study 2 - Retiree Bob Gets Back On Course After Urolift Treatment
When retired engineer and keen golfer, Bob Jesse, started suffering difficulty in passing urine and reduced flow he was given tablets to help alleviate his urinary retention. While the drugs worked well for a few years, they gradually became less effective and his flow began to deteriorate again.
Bob ended up in hospital while on holiday with his wife because he was unable to pass water at all. After flying home, he was referred to a consultant urologist and was offered TURP, but chose UroLift because it meant he could be out of hospital the same day. He underwent a 15-minute minimally invasive procedure using the UroLift system, which transformed his life and made a huge difference to his symptoms. Prior to the treatment he felt that going to the loo seemed to take hours whereas now he has normal function and is no longer taking medication.
Read the full account of Bob's Urolift Treatment and how he got back in the swing of things after having the newly-approved UroLift prostate operation that helps men turn the taps back on.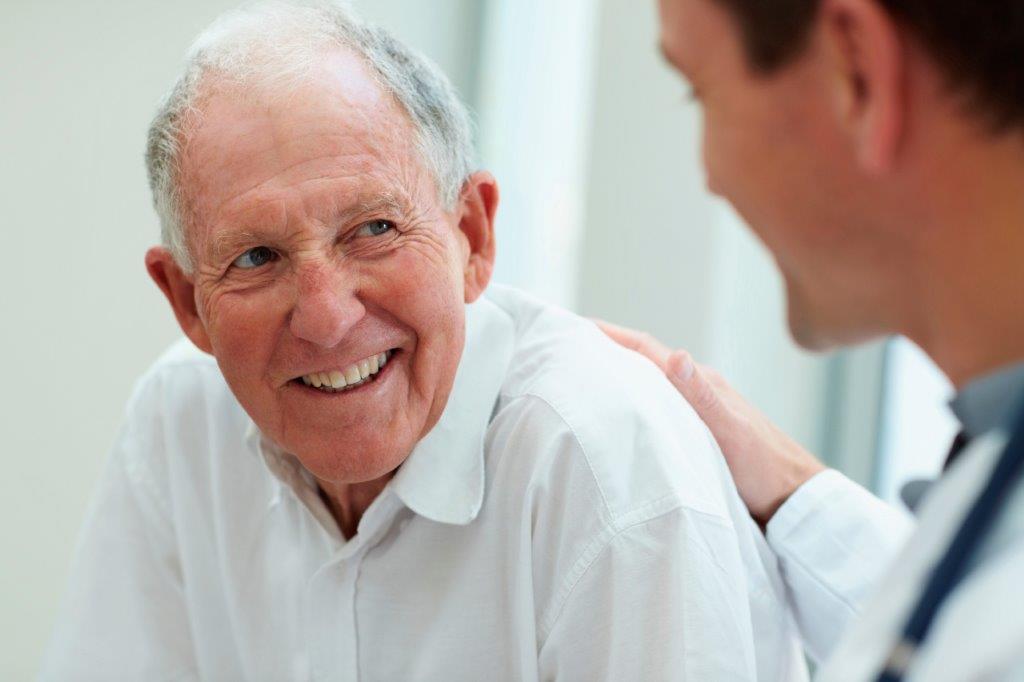 Your UroLift® Questions Answered
1. What is the UroLift® System?
The UroLift® System is a new minimally invasive treatment designed to treat lower urinary tract symptoms (LUTS) due to enlarged prostate gland, otherwise known as benign prostatic hyperplasia (BPH).
2. How does the UroLift System work?
The UroLift System consists of a delivery device and tiny permanent implants. This unique technology works by directly opening the urethra with tiny implants that hold the enlarged tissue out of the way. No cutting, heating, or ablating tissue is involved, making the UroLift System the first and only BPH treatment that does not remove prostate tissue and preserves a man's sexual function.
3. Is the UroLift System treatment right for me?
The UroLift System is a new treatment option for patients who are looking for an alternative to drugs or major surgery such as TURP/Laser treatment. Or, perhaps, you are dissatisfied with or have stopped taking medications. UroLift is appropriate for patients seeking a minimally invasive treatment and who are concerned about preserving their sexual function and their quality of life.
4. What should I expect during the UroLift System treatment?
In general, the UroLift System is a minimally invasive treatment with minimal downtime. Your doctor will use the UroLift delivery device to deploy permanent implants to relieve obstruction caused by the enlarged prostate that is pressing on your urethra. The procedure may be performed under local or general anaesthesia and you may be given medication to feel comfortable during the treatment. Typically, no catheter and no overnight stay is required post-treatment.
5. What happens post-treatment, during the recovery period?
Following treatment, the overwhelming number of patients go home the same day without the need for a catheter. There is minimal downtime post-treatment and most patients experience symptom relief in as little as 2 weeks. Some urinary discomfort may be experienced during the recovery period. The most common side effects may include light blood in the urine, some pain or discomfort when urinating, some increased urge to go and discomfort in the pelvis. These typically resolve within two to four weeks after the procedure. Your doctor will discuss with you how quickly you can return to your normal physical activities.
6. Will having the UroLift System treatment affect sexual function?
In clinical studies sexual function has been preserved among the hundreds of patients treated. This is a unique benefit of the UroLift System treatment compared with other BPH therapies such as TURP, laser, and even medication.
7. Is the treatment permanent?
The UroLift Implant is a permanent implant, and the treatment is intended to be permanent. Durability has been shown to last at least 4 years in U.S. clinical data. One significant benefit of the UroLift System is that it does not preclude retreatment or other BPH treatments, should that be needed and desired in the future.
8. What happens if the implants need to be removed?
The implant is made of standard surgical implantable materials: a nitinol capsular tab, a stainless steel urethral tab, and polyester suture that holds the two tabs together. If required, your doctor can simply remove the implant. The suture can be cut and the urethral end-piece can be retrieved with a standard grasper.
9. Will the UroLift implants affect a digital rectal exam (DRE)?
No. The implants are placed on the anterior (front) side of the prostate, and a DRE is conducted on the posterior (back) side of the prostate. The implants are not expected to interfere in a DRE.
10. What clinical data is available for the UroLift System?
Over 950 patient-years of clinical data has been presented in peer-reviewed publications to date demonstrating that the UroLift System is safe and effective. Clinical studies have been conducted in the United States, Canada, Europe and Australia.
11. Is UroLift System treatment covered by health insurance?
Yes, typically health insurance covers the UroLift treatment when medically necessary. The first step is to make an appointment with your urologist to determine if you are an appropriate candidate for the treatment.
12. Who performs the UroLift System treatment?
A urologist, a doctor specialising in the treatment of diseases of the urinary system and sex organs, uses the UroLift System to treat urinary symptoms due to enlarged prostate. The urologist completes comprehensive training prior to using the UroLift System. 
Urolift® treatment is available at Kingsbridge Private Hospital, Belfast and is carried out by our consultant urologist Mr. Ajay Pahuja



If you would like to book an appointment or require further information on the available options, please do not hesitate to contact our private patient booking team via our online enquiry form.

Alternatively, email Kingsbridge Private Hospital
;